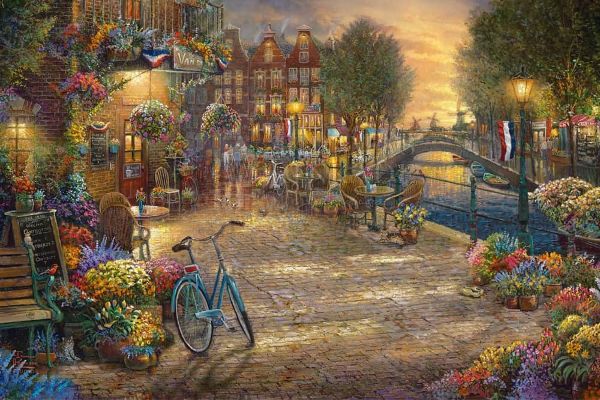 What do you buy for the travel lovers in your life? People who travel have broader horizons. This is true whether they have a full passport and an always-ready carry-on bag, are on a first-name basis with the cruise line staff, or are pushing the multi-hundred thousands in car mileage.
Travel-Themed Gifts For Art Lovers 
At the Thomas Kinkade galleries of Carmel, Monterey, and Placerville, we think artwork depicting some of the most beautiful travel destinations the world over can make a pretty fantastic gift for your favorite wanderers.
Gifts For Roadtrippers
Some travel lovers like to keep things local for the most part. A quick weekend getaway is always on the horizon. Holidays mean packing up the car and getting out of town.
Why not present them with Limited Edition paintings of our beautiful national parks? They capture perfect views of local landmarks without the camping fees, gas money, or hassle of cleaning out the cooler afterward.
Gifts For City Adventurers
You know that friend who's always exploring side streets and prefers authentic hole-in-the-wall cuisine no matter the city? Help them picture themselves enjoying the sights and sampling local fare with Limited Edition café paintings from around the world.
Paintings For Couples Who Love To Travel
Bring a smile to the face of the couple who loves to travel with our Disney Passport to Adventure painting collection. These fine art paintings portray everyone's favorite couple, Mickey and Minnie Mouse, as they explore and experience environments and cultures from Ireland to Australia to Paris, France.
Shop Landscape Paintings In California
The next time you find yourself on the hunt for the perfect gift, Thomas Kinkade galleries invite you to consider Limited Edition landscape paintings for travel lovers available at any one of our California showrooms. Contact us to place your order or stop by and see us in Carmel, Monterey, or Placerville today.