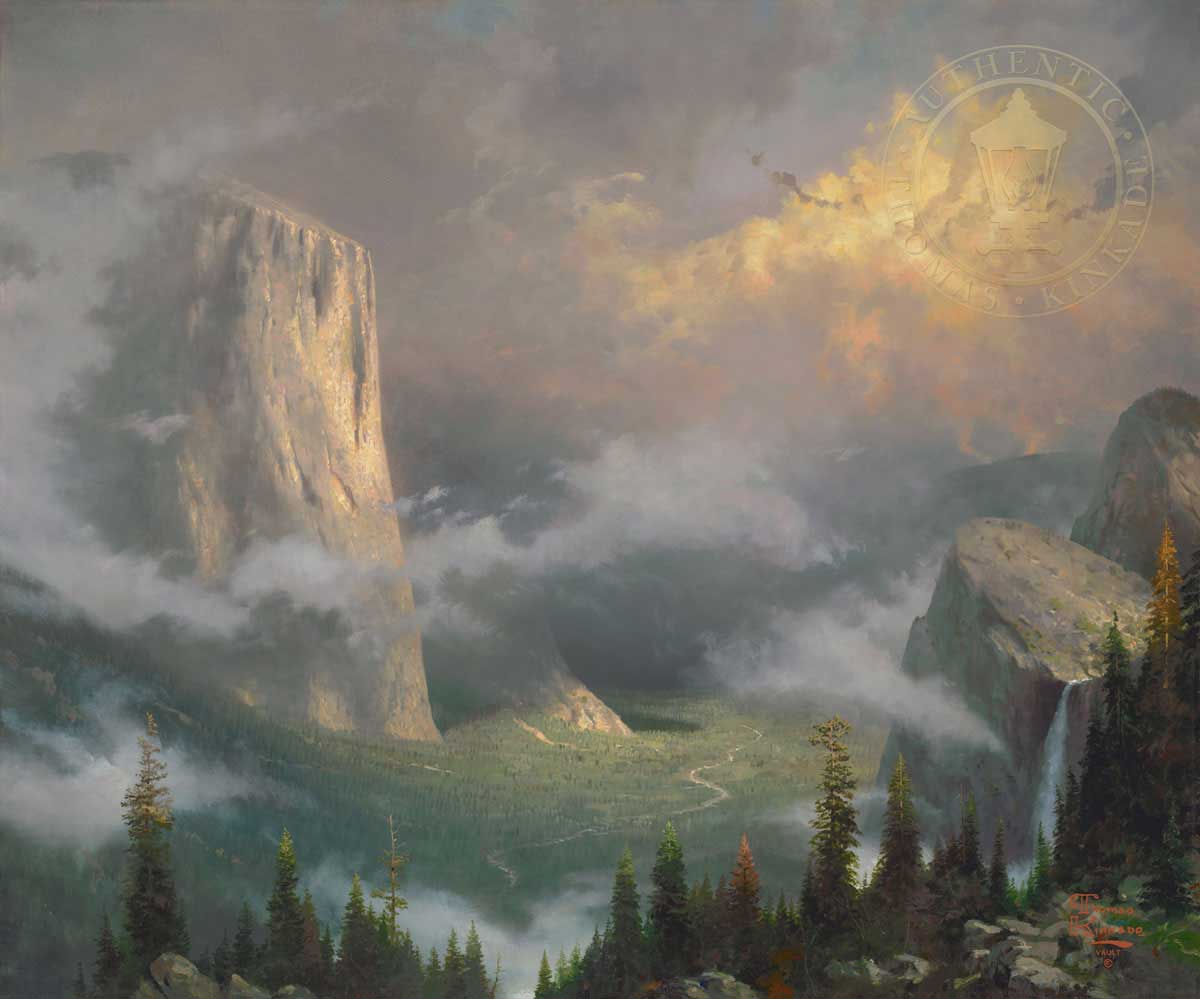 Art Notes
Thomas Kinkade was a great outdoorsman. He grew up in the golden foothills of Northern California's Sierra Nevada Mountains and throughout his life he returned to this picturesque mountain range to paint. Over the course of his prolific career, Thom was deemed an Official Artist of the National Park Service and circled back to one of his favorites themes – nature and the great outdoors.
In West Rim, Yosemite Thom painted Yosemite Valley's El Capitan with its sheer cliffs and fertile valley below. Thom captured the enormity of El Capitan and the vast shadows it cast on the gentle valley at its base. As Bridalveil Falls pours lightly over the cliffs, a trail meanders up the valley below.
West Rim was part of a series of paintings featuring various views of the Yosemite Valley that Thomas Kinkade created in his early career.
The view of this painting is looking out at El Capitan.
It was a previously unreleased image from The Thomas Kinkade Vault. Its national release and unveiling took place at Earth Day Texas 2016.
Thom was committed to sharing the beauty of Nature through his art and we carry on that legacy by releasing this in support of Earth Day Texas 2016 and the National Park System.
Thom was the Official Artist for the National Park System and created several paintings featuring America's treasures – Yosemite Valley, Late Afternoon Light at Artist's Point was the 1989 National Parks Systems official print.
Thomas Kinkade is the only American artist to win two Founder's Awards from the National Parks Academy for the Arts.
Title West Rim, Yosemite
Painted 1989
Published 2016
Style Hudson River School
Classification Thomas Kinkade Vault
Subject Location Yosemite, California