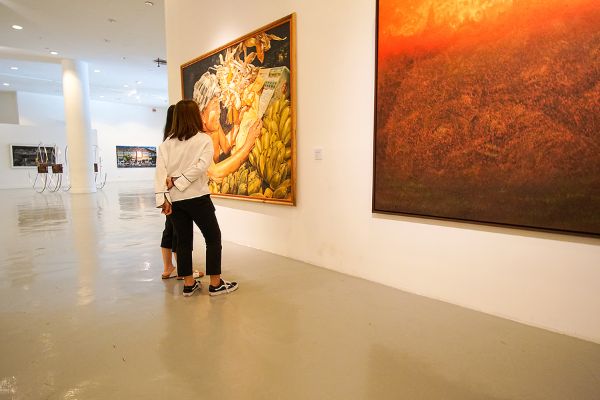 Start or grow your art collection and spend time with friends while you do it. Art shows and craft fairs are a great way to explore what's out there and experience local culture.
At the Thomas Kinkade Galleries of Carmel, Monterey, and Placerville, we've put together this simple 2022 California art exhibit guide to help you plan an artful New Year.
Please make sure to verify exhibit details before planning trips or day outs.
January 2022
Is seeing more art one of your New Year's Resolutions? The Golden State makes sticking to this one simple with art exhibitions featuring everything from paintings to textiles to photography.
Asian Art Museum
Seeing Gender
de Young Museum of Fine Art
Nampeyo and the Sikyatki Revival
To Teach and Inspire: The Julia Brenner Textile Collection
Patrick Kelly: Runway of Love
Jules Tavernier and the Elem Pomo
Legion of Honor
Color into Line: Pastels from the Renaissance to the Present
Michelle Erickson: Wild Porcelain
Museum of Modern Art (SF MOMA)
Contemporary Optics
Art of California: Greater than the Sum
Tatiana Bilbao Estudio: Architecture from the Outside In
Drawing the Line: Rael San Fratello at the US-Mexico Border, through
Rafael Lozano-Hemmer: Unstable Presence
Constellations: Photographs at Dialogue
Tauba Auerbah: S v Z
One Day at a Time: Susan O'Malley & Leah Rosenberg
Alexander Calder: Dissonant Harmony
Los Angeles County Museum of Art (LACMA)
Family Album: Dannielle Bowman, Janna Ireland, and Contemporary Works
In the Now: Gender and Nation in Europe
Black American Portraits
Carmen Herrera: Estructura Verde
Golden Hour: California Photography
Legacies of Exchange: Chinese Contemporary Art
Mixpantli: Space, Time, and the Indigenous Origins of Mexico
California Center for the Arts
Surface, Substance, Structure
The San Diego Museum of Art
Masters of Photography: The Garner Collection
Pearls from the Ocean of Contentment
Fortuny: Master of Light and Line
Palm Springs Art Museum
Helen Frankenthaler: Late Works
Storm of Hope: Law & Disorder
The Modern Chair
Helen Lundeberg
Oakland Museum of California (OMCA)
Mothership: Voyage Into Afrofuturism
Remembering Artist Hung Liu
Edith Heath: A Life in Clay
Laguna Art Museum
California Cool Art Auction 2022
Any-Instant-Whatever
Sky Space Time Change
Monterey Museum of Art
Seeking Eden: James Fitzgerald in Monterey
Courage Within: Women Without Shelter
Long Beach Museum of Art
Alex Gardner: We All Exist Right Now
Benton Museum of Art
Sahara: Acts of Memory
The Broad
Since Unveiling: Selected Acquisitions of a Decade
February 2022
LACMA, The Getty Center, SF MOMA – February gives you plenty of reasons to get out and explore California art exhibits. Check out old Paris, get an in-depth view of anatomy, or start your art fair attendance early this year.
Los Angeles County Museum of Art (LACMA)
City of Cinema: Paris 1850–1907
The Getty Center
Grand Design: 17th-Century French Drawings
Poussin and the Dance
Flesh and Bones: The Art of Anatomy
Magic Box LA
Superfine Art Fair
Sacramento Fine Arts Center
Magnum Opus 2022
The River at Rancho Mirage
Desert Arts Festival
Museum of Modern Art (SF MOMA)
Nature × Humanity: Oxman Architects
March 2022
If the kids are getting a little stir crazy, head out to Palm Springs for the Palm Springs Chalk Art Festival. Or check out the lighter side of wall art with Power and Light at the Getty Center.
de Young Museum of Fine Art
Alice Neel: People Come First
Los Angeles County Museum of Art (LACMA)
Barbara Kruger
Getty Center
Painted Prophecy: The Hebrew Bible through Christian Eyes
Imogen Cunningham: A Retrospective
Powder and Light: Late 19th-Century Pastels
Gallery 308, San Francisco
Superfine Art Fair
Palm Springs Art Museum
Palm Springs Chalk Art Festival
April 2022
Does your love of all things art include fashion design? You won't want to miss 2022 art exhibits in California then. This month, the Legion of Honor presents Guo Pei, and LACMA features Alexander McQueen.
Legion of Honor
Guo Pei: Couture Fantasy
Los Angeles County Museum of Art (LACMA)
Lee Alexander McQueen: Mind, Mythos, Muse
The Getty Villa
Persia: Ancient Iran and the Classical World
Indian Wells Tennis Garden
The Indian Wells Arts Festival
Streets of Little Italy Area
Mission Fed ArtWalk
Paso Robles Downtown City Park
Art in the Park
Central Park, Old Pasadena
Jackalope Pasadena: Indie Artisan Fair
West Valley College, Saratoga
Saratoga Fine Arts Show
May 2022
If Art in the Park, Art on Main, and Arts Festivals are what spring art viewing is all about for you, we have good news. The fairs and festivals are up and running, along with more traditional fine arts exhibits.
Sacramento Fine Arts Center
Watery Wonders Photography Exhibit
Getty Center
Judy Baca: Hitting the Wall
The Lost Murals of Renaissance Rome
Ojai Art Cente
45th Annual Art in the Park
Downtown, Carmel-By-The-Sea
Carmel Art Festival
Downtown, Walnut Creek
Art on the Main
Downtown on Crescent Drive, Pleasant Hill
Pleasant Hill Art, Wine & Music Festival
Gualala Arts Center
Fine Arts Fair
Hermosa Beach Community Center
Hermosa Beach Fine Arts Festival
June 2022
The Getty Center has us captivated in June 2022. Explore art by Dutch-American expressionist Willem de Kooning. See the artistic intersection where history meets fantasy in the middle ages and where sight meets sounds. Getty has it all in their early summer artistic exhibits.
Getty Center
Conserving de Kooning: Recovery of a Masterpiece
The Fantasy of the Middle Ages
In Focus: Sound
Heather Farms Park, Walnut Creek
Walnut Creek Art & Wine Festival
State and Grand Streets, Carlsbad
Carlsbad Art in the Village
July 2022
Don't miss your chance to find out what makes Laguna Canyon an art lover's must-visit destination each summer. The Laguna Art-A-Fair brings together dozens of fine artists and artisans from around the world.
Los Angeles County Museum of Art (LACMA)
Objects of Desire: Photography and the Language of Advertising
Laguna Canyon Festival Grounds
Laguna Art-A-Fair
August 2022
Cool off and spend some time out of the August heat with new summer art exhibits at LACMA and MOCA. Or, soak up some C with an Art Walk or Art in the Park outing.
Los Angeles County Museum of Art (LACMA)
Scandinavian Design and the United States, 1890–1980
The Museum of Contemporary Art (MOCA)
Simone Forti
Arts District @ Liberty Station
Art Walk
Lincoln Park, Los Altos
Fine Art in the Park
September 2022
Make sure to make September 2022 one to remember with riveting contemporary art exhibits at MOCA. Check out a boutique art fair in San Diego. Or, make the most of mild nights with an arts festival in Santa Barbara.
The Museum of Contemporary Art (MOCA)
Garrett Bradley: American Rhapsody
Judith F. Baca: The World Wall
Tala Madani
San Diego Convention Center
Art San Diego
Santa Barbara Earl Warren Show Grounds
Santa Barbara Sea Glass & Ocean Arts Festival
October 2022
Find out why Scandinavian design continues to capture our interest at the LACMA this month. If the ethereal effects of watercolor are featured largely in your art collection, make sure Watercolor West is on your art exhibit calendar.
Los Angeles County Museum of Art (LACMA)
Scandinavian Design and the United States, 1890–1980
Brea Gallery
Watercolor West International Exhibit
November 2022
November may seem light on art exhibitions, but that doesn't mean your fall forays can't include culture. MOCA, Marin is hosting a juried national exhibit, and your favorite venues are sure to have many fall shows not currently listed.
Marin Museum of Contemporary Art
Winter National Exhibit
December 2022
So far, December is a big unknown as far as art exhibits go, but that's because the year is still young, and many museum plans are coming together. We recommend subscribing to your favorite museums' newsletters or following them on social media to stay abreast of upcoming visiting opportunities and view something spectacular.
Shop Fine Art In California Year Round
As you explore all California has to offer to art collectors, make sure to stop by our fine art gallery in Monterey, our Carmel art gallery, and Thomas Kinkade Placerville. We look forward to helping you choose your new favorite showpiece.