Don't miss out on Eric Dowdle's beloved artwork now available at Thomas Kinkade Galleries in California. Take off on a new adventure or lose yourself in one of your favorite scenes so masterfully crafted by this storytelling artist. ... Read More
AN ADVENTURE IN ART AWAITS YOU
Don't miss out on Eric Dowdle's beloved artwork now available at Thomas Kinkade Galleries in California. Take off on a new adventure or lose yourself in one of your favorite scenes so masterfully crafted by this storytelling artist.
Eric Dowdle has a background of hard work and dedication to God, family, and country. He was born and raised in the heart of the western United States to parents of 12 children, 2 girls, and 10 boys. Many of the stories of his youth are reflected in his artwork – a chicken stuffed in a mailbox, a young boy surprising his mom with flowers from the neighbor's yard, children bravely walking a fence line or Boy Scouts playing pranks on each other.
The Birth Of A Storyteller
The Dowdle family moved to Boston where Eric developed a fascination with folk art. This style of art brought together the values that were instilled in him throughout his life with his love of people, sense of humor and the ability to tell the stories of people through the detail of the artwork.
There's No Place Like Home
Eric, and his wife Deb, now live on a charming farm with their own family and a smattering of farm animals by the Wasatch Mountains in Lindon, Utah. After visiting beloved locations throughout the world Eric easily proclaims that home is "my favorite place on earth."
A Man Who Makes Things Happen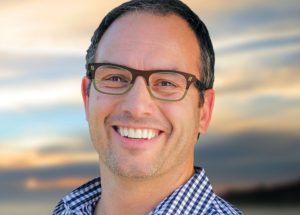 Eric has been creating art for over twenty years. He started painting in his early twenties; parting ways with college after one year, to "go make something happen."
Making things happen is how Eric does things; painting, exploring, marketing, and working day and night to expand the business and his collection of over 300 paintings. Today, his original paintings have been converted into premium gifts and keepsakes, such as fine-art prints, puzzles, calendars, adult coloring books, personalized wooden puzzles, 3D Stratascapes, and more.
Dowdle products have captured the attention of small and large big-box retailers such as Costco, Walmart, and Target selling more than one million puzzles each year, giving Dowdle a large and growing retail presence.
The Many Talents Of Eric Dowdle
Eric captivates people of all ages with his fun, quirky personality. His wit and charm make him a natural for television, radio and social media spotlights. He can be found starring in his second season of "Painting the Town with Eric Dowdle" on the BYUtv network, distributed worldwide. Sirius XM Radio has aired hundreds of programs, "Traveling with Eric Dowdle."
Stop by our California Thomas Kinkade Galleries to really experience Eric Dowdle's art up close.