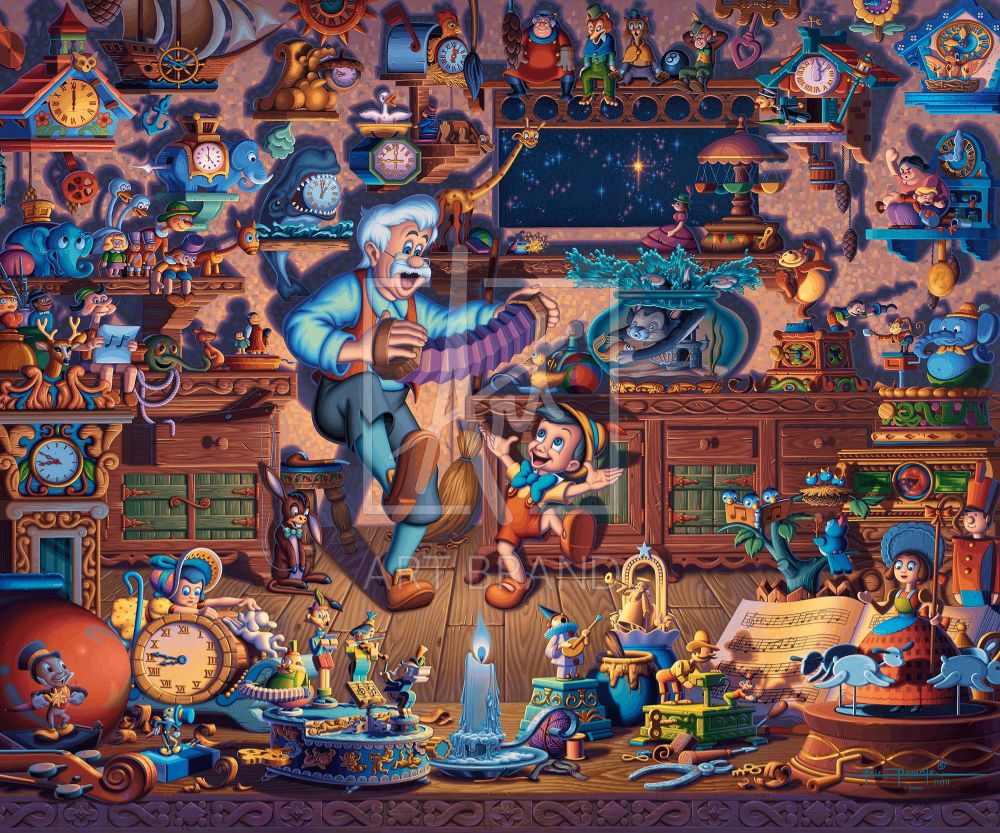 Art Notes
"Prove yourself brave, truthful, and unselfish and someday you will be a real boy."
That is the promise of the Blue Fairy to the puppet Pinocchio. This is a story of our human condition and striving to become but even more so about redemption. The message is that there is always a way back for someone with a good conscience and a strong heart if they hold on to unconditional love.
I first saw it when I was seven years old. There was something special to me about the movie even after only one viewing. I identified with the puppet turned little boy but was too young to know why. I just knew I loved him. My parents bought me a Pinocchio bank doll and it was my prized possession through my childhood. I kept it through high school. Starting this project, 44 years later, I sat down and watched it again. It had an unbelievable impact on me. I cried openly. I knew right away what I wanted to capture in my painting.
We all start out innocent. We want to please, do some good, be recognized, and be happy. We set off on our journey trying to figure it all out. Then we make mistakes and get roughed up by life's harsh realities. This seems to slowly chip away at our youthful optimism. We feel unloved, without worth, and irredeemable. Then we find that source of unconditional love which pulls us back from the edge, for which we would sacrifice all. That love is the ultimate reality. Often times, we need a great awakening to bring us back to the way we saw the world when we were young.
That is the moment of pure joy I wanted to capture in this painting. Pinocchio has returned home to his father. They dance in celebration that he has become a real boy – their dream come true. Jiminy Cricket has also reached his goal of becoming an Official 18 Ct. Gold Conscious, bestowed by Blue Fairy's starlight. Figaro, Cleo and the clocks are even caught up in the joyful event. This is considered by many to be Walt Disney's best-animated classic. Its magical mantra echoes, "When you wish upon a star your dreams come true." If you ever get the chance to meet my wife you'll find the rare combination of inner and outer beauty. We love this scene in the story because the falling in love process is something we have enjoyed looking back on over the years. We like to reminisce as much as the next couple and I believe that's what Disney would like all of us to experience over and over again.
– Eric Dowdle
Key Points
Donning his classic top hat and tailcoat with parasol in hand, Jiminy Cricket observes Pinocchio and Geppetto in a joyous scene.
Figaro, Geppetto's pet tuxedo cat, leaps into Cleo's fishtank to give her a celebratory kiss as Pinocchio becomes a real boy.
The Wishing Star shines brightly into Geppetto's workshop, protecting and illuminating the village.
Can you find Eric Dowdle's hidden rooster?
Geppetto's Workshop is filled with an array of his creations, including figurines, toys, clocks, and other knick-knacks.
Copyright: © Disney © The Thomas Kinkade Estate. All rights reserved.
Title Pinocchio
Published August 2020