To experience nature as only Marjolein Bastin can paint it, stop by one of our three California signature galleries today. Marjolein's earliest memory is when, as just a toddler, she would lie in the grass outside her family's home near Utrecht, ... Read More
SHARING THE SERENITY OF NATURE
To experience nature as only Marjolein Bastin can paint it, stop by one of our three California signature galleries today. Marjolein's earliest memory is when, as just a toddler, she would lie in the grass outside her family's home near Utrecht, The Netherlands, breathing in the sights, sounds, and smells of the natural world around her. Little did her mother know that when she lifted little Marjolein from her baby carriage and placed her into the hands of nature, she was placing nature into the hands of Marjolein.
---
Gallery Wrapped Canvases
Bouquets of Spring is a set of 10" x 10" gallery wrapped canvases featuring the art of Marjolein Bastin. Hung individually or as an ensemble, this frameless presentation brings the warmth of nature to your home. These stunning pieces are available in our three California signature galleries. Stop by one of our locations or give us a call to place your order today.
Gallery Wrapped Canvas Features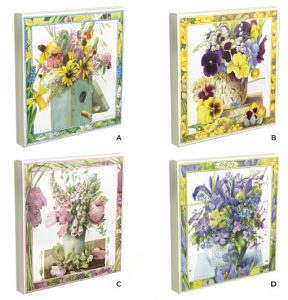 Premium canvas
Hardwood stretcher bar
Certificate of Authenticity included
Prices
A. Birdhouse Bouquet (#69621): $45
B. Coffee Cup Bouquet (#69611): $45
C. Pretty in Pink Bouquet (#69618): $45
D. Purple Passion Bouquet (#69615): $45
---
Marjolein Bastin Fine Art
Her passion for the natural world is of a universal quality that appeals to people the world over. But for Marjolein, only one thing remains important: spend every day behind her desk painting the natural world around her. Stop by today to experience the delight of Marjolein Bastin at one of our California signature galleries.
The Early Years
As a little girl, Marjolein collected and treasured simple items from nature – pine cones, seeds, and flowers. As soon as she was able to hold a pencil and paintbrush, she began to lovingly capture the beauty of nature in her sketches and paintings. "It was my way of holding forever the impression I loved so much in nature," she says.
Marjolein continued to pursue those impressions as she grew and developed her talent as an artist, ultimately attending the Academy of Arts in Arnhem, The Netherlands. Shortly after completing her studies there, her work came to be publicly recognized when she was asked to illustrate a one-page feature for the popular Dutch women's weekly Libelle.
An Artist With Many Talents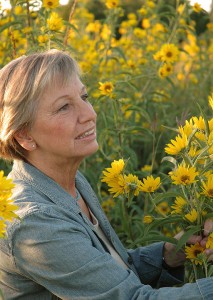 We are excited to feature this talented artist in our California galleries. Marjolein's work is currently enjoyed the world over. In addition to her partnership with Hallmark, she provides ongoing contributions to Libelle, as well as a variety of product partners in Europe and North America. She also writes and illustrates children's books featuring the endearing Vera the Mouse character, which she created.
Through her art and words, Marjolein offers people a simple reminder to pause and enjoy nature and allow it to be a source of serenity, energy, and healing. Finding inspiration in a bird lighting on a branch or a leaf drying in the autumn sun, Marjolein takes long walks each afternoon to seek new ideas for her artwork and her writings.
---
From Her Worktable To Your Home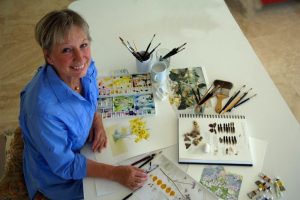 Her workday often begins as early as 6 a.m. and extends into the evening, as she sits at her worktable, which inevitably is crowned with flowers or other finds from the day's walk. Brush in hand, she brings her special relationship with the world full circle: Nature captivates her, and she captures it to share with others.
Marjolein's work falls into three main groupings: detailed and exact snapshots of nature (close-ups of what she sees around her); those detailed snapshots that also include Marjolein's personal written observations on nature; and finally, works that show the beauty of nature as touched by human hands, including cut flowers, potted plants, and birdhouses built with pencils.
A Love Of Family
Marjolein and her husband Gaston divide their time between country homes in Holland, Switzerland and in Missouri, near Hallmark's headquarters, as well as a tropical retreat in the Cayman Islands. Each setting provides a unique glimpse of what nature has to offer throughout the world. The couple has a son, Mischa, a daughter, Sanna, and two grandchildren.
Marjolein's parents, whom she thanks for literally putting her in touch with nature all those years ago in the soft green grasses overlooking the banks of the Vecht River, have passed on. But nature keeps them at her side. "When I'm in the woods around our house picking holly branches and pinecones for our holiday table, I feel my mother there with me. And my father, too. Somewhere in me. All the ones we love will live forever in our hearts."