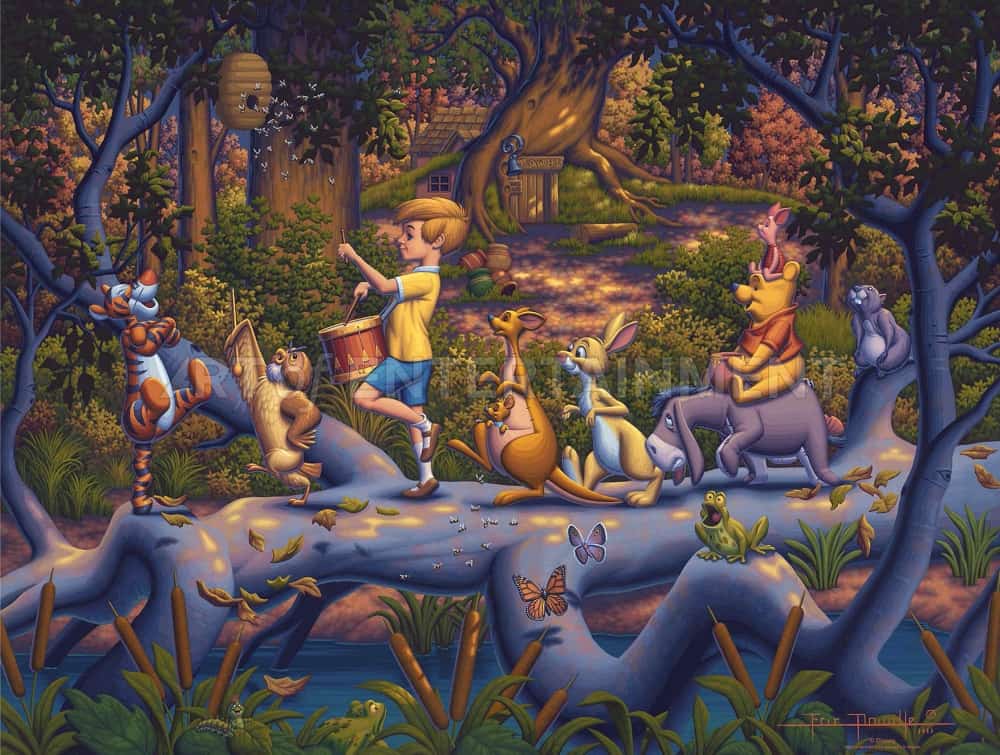 Art Notes
A Heroes Parade in the Hundred Acre Wood! A celebration of friends: Winnie the Pooh and Piglet, are shouldered and cheered by Owl, Rabbit, Eeyore, Kanga, Roo, Christopher Robin, and Tigger too. Aren't friends the true heroes, those who sacrifice to make others' lives better? They don't count the cost. They just do without thought and often even avoid the recognition.
Pooh saved Piglet, Piglet saves Owl, and the good acts keep going. We see the group assisting each other along the way – each rooting the others on. It is a wonderful world of examples of friendship we see in the youthful world of Christopher Robin. "Hip hip, hurray for the Piglet and the Pooh!"
My high school Art teacher, Rudy Gunter, is my hero. With his skills, he could have sculpted for the wealthy. He could have done anything in the sculpture world. Instead, he chose to sculpt young artists, changing the lives of thousands. He mentored and helped me in ways transcending just a teacher. Rudy was in my thoughts as I painted this scene.
This image of the Heroes Parade gives us a chance to review the heroes in our lives; our friends, those that make a difference and may not even know it. Friends do what they do because they want to, not out of obligation. They do because they are friends. We should hold Heroes Parades for all the special friends in our lives and let them know.
– Eric Dowdle
Key Points
Winnie the Pooh – A Heroes Parade is the eighth painting in the Disney Collection by Eric Dowdle, a series of Limited Edition Art that tells the stories of favorite Disney characters in Eric Dowdle's magical folk art style.
This painting is based on the iconic scene from Disney's 1968 featurette "Winnie the Pooh and the Blustery Day".
The group of friends march past the home of Winnie the Pooh as they parade through the Hundred Acre Wood. Can you find all the honey pots and bees in his yard?
Copyright: © Eric Dowdle © Disney © 2020 Art Brand Studios, LLC. All rights reserved.
Title Winnie the Pooh – A Heroes Parade
Published October 2020
Collection Disney Collection