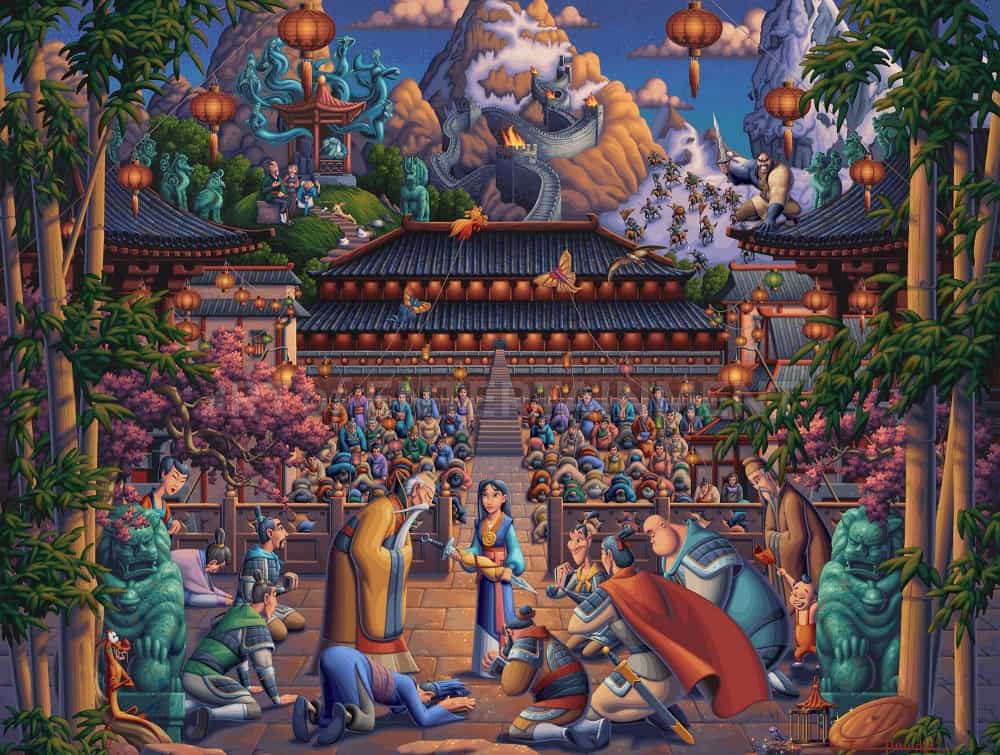 Art Notes
What is your place in the generations of your family? What if you had the power to change the world around you for good? If you had to risk your honor, your family name, and even your life in order to do it, would you?
These are the questions that drive Disney's Mulan. For much of the story, Mulan hides what is in her heart. Those around her don't see her, but a façade. In a moment of introspection, Mulan says, "Maybe what I really wanted was to prove I could do things right. So when I looked in the mirror. I'd see someone worthwhile." It is a challenge we all seem to face.
As one of 12 children, 9 of them brothers, it was not uncommon to look at life around me and wonder where my place was. I remember taking some of my early drawings to my Mother and her telling me how good they were. Having this validation certainly helped me to seek to develop my abilities in art. I can relate to Mulan's reflection.
Looking back at this story helped me remember my own ancestors and wonder if I'm bringing honor to them through my efforts.
There are a thousand stories in Disney's Mulan, but they all come down to the passing of the sword. We cannot fake what is inside our hearts. That's why I chose this moment for the painting. Everyone is paying homage to Mulan, not just for her tremendous courage, but also for the strength to follow the voice within, a voice we all hear. I also wanted to show how Mushu and Cri-Kee beam at others seeing the Mulan they know. We may not all save an empire, but we all have our part to give. Mulan's story helps us see that there is real power to affect change in each of us.
– Eric Dowdle
Key Points
Mulan the Face in the Mirror is the twelfth painting in the Disney Collection by Eric Dowdle. This is a series of Limited Edition art that tells the stories of Disney characters in Eric Dowdle's magical folk art style.
In this painting, the soldiers are kneeling in respect for Mulan and her courage. The painting shows the passing of the sword ceremony.
Can you spot Mushu and Cri-Kee? They are admiring the ceremony from afar.
The audience members are bowing their heads in appreciation for Mulan.
How many lanterns do you see? There are many Chinese lanterns in all colors and sizes!
Copyright: © Eric Dowdle © Disney © 2021 Art Brand Studios, LLC. All rights reserved.
Title Mulan the Face in the Mirror
Published March 2020
Collection Disney Collection