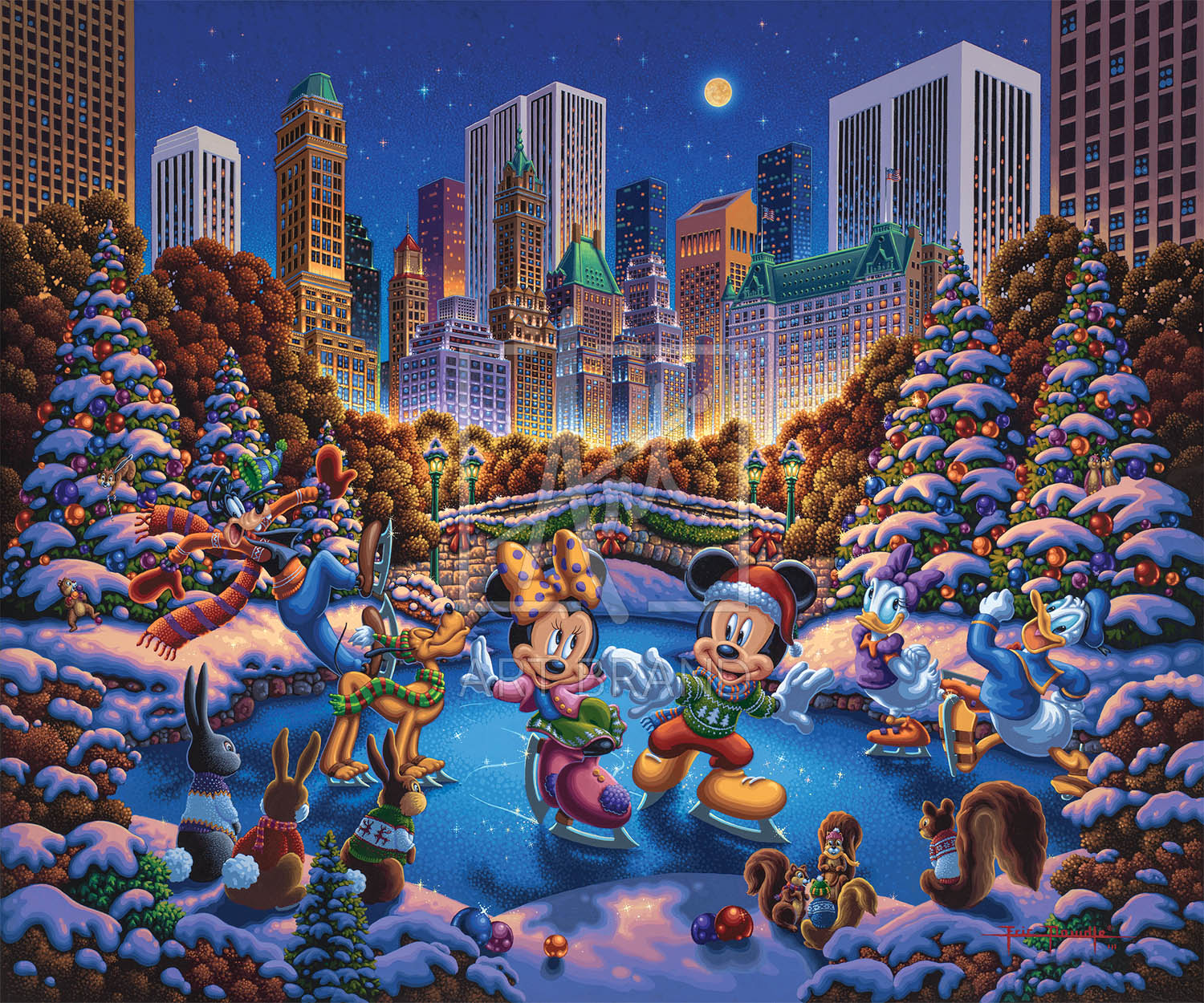 Gallery Director Notes
Art Brand Studios and Eric Dowdle have teamed up for a breathtaking collection of Disney folk art, portraying magical moments of everyone's favorite classic Disney cartoon characters. Painted in his whimsical, patriotic art style, this collection will stir up nostalgic and cheerful emotions while reminding us that our vast and extraordinary world is quite intimate. Allow us to take you to places around the world that you will never want to leave with our collection of Disney and Dowdle fine art.
Art Notes
The fun loving characters of Disney have always had the ability to whisk me away to a childhood moment that reflect the joys of childhood fun and friends. The genius of taking characters and giving them personality and form is what I relate to as an artist. I knew someone like Donald Duck and tried to be like Mickey Mouse who was a friend to all. These are the cartoon characters that made me laugh from deep down inside my belly.
Mickey and Friends Skating in Central Park reminds me of the times I'd try something new. It was always best experienced with buddies, cheering and jeering. Those memories always make me smile.
Winters in New York provide some of the most enchanting holiday backdrops where friends and family can gather to make chilly memories. Years ago while visiting Central Park after a storm I felt compelled to get out on the ice and give it a whirl. Somewhere in the back of my mind I could hear my friends laughing and joking, all along wishing they were there so I could return the favor.
My wish in painting Mickey and Friends Skating in Central Park is that it will remind us of the good fun that is always better when enjoyed with good friends.
Key Points
Dusted with snow in winter, the Gapstow Bridge offers a moment of tranquil beauty in any season.
The Plaza Hotel New York is one of the City's most popular film sites.
The Woolworth Building is an early American skyscraper, designed by architect Cass Gilbert, it was the tallest building in the world from 1913 to 1930, with a height of 792 feet.
Mickey and Minnie are decked out from head to toe in traditional holiday attire.
Copyright: © Eric Dowdle © Disney © 2019 Art Brand Studios, LLC. All rights reserved.
Title Mickey And Friends Skating In Central Park
Published May 2019