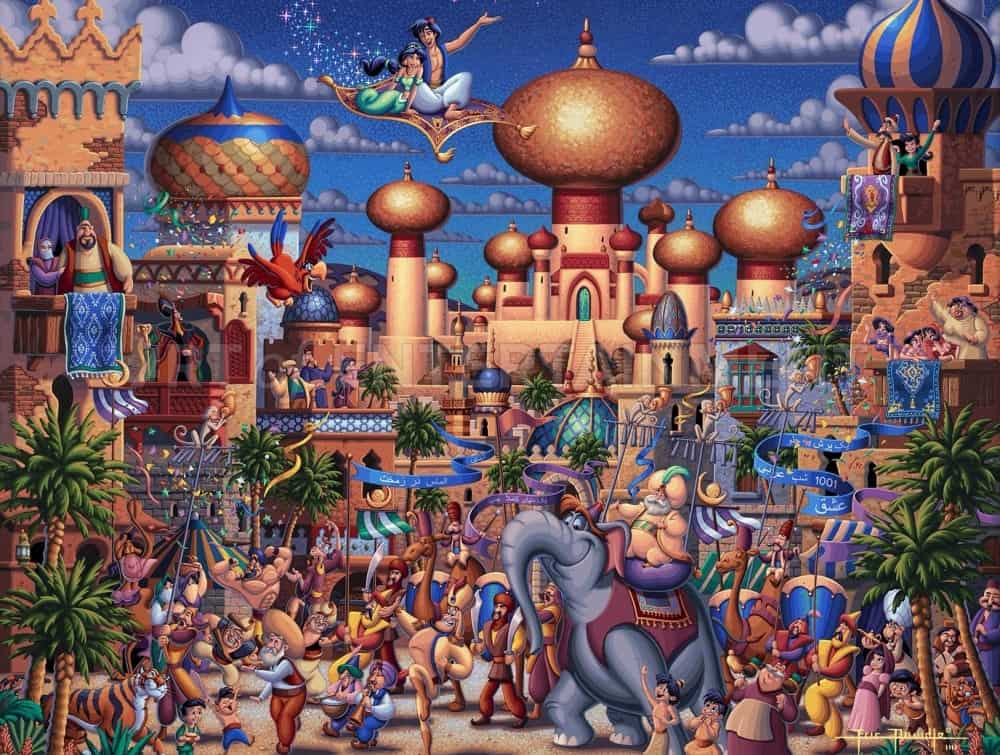 Art Notes
"Make way for Prince Ali. Say hey, it's Prince Ali…!" And so begins the epic parade through the streets of Agrabah. I love a parade. I also love the magic of love. So, what to do? Well, put them both together in this painting of Aladdin.
I remember the first time I saw a parade, the thrill of a rich, moving pageant passing before me. They even threw me CANDY! the golden currency of childhood. When I was young, I had the opportunity to be in a small-town parade. It was amazing! There was energy and excitement. The streets were lined with people waving and cheering, it felt like for me. There were bright colors, cars, band music, loud sirens, clowns, precision motorcycle groups, horses, and on and on. Even without a personal genie, it was magical. Is that what you felt?
I wanted to capture these feelings in the Aladdin painting, a grand parade with all its wonder. This is a celebration of life in all its variety. It is as magic as a newfound love or a magic carpet ride. Everyone is feeling the exhilaration and happiness: the music, the marvel, and the unwrapped thrill of the future. The Sultan is so thrilled he is even smiling riding on the back of Abu the elephant (it is not a comfortable ride, take it from me). I hope this bright, Arabian city takes you to a place where wishes come true, maybe even 3 of them.
– Eric Dowdle
Key Points
Aladdin – Celebration in Agrabah is the tenth painting in the Disney Collection by Eric Dowdle. This is a series of Limited Edition art that tells the stories of Disney characters in Eric Dowdle's magical folk art style.
This painting shows Aladdin and Jasmine flying through the city of Agrabah, just beyond the palace walls.
Merchants, ribbon twirlers, musicians, animals, colorful clothing and Middle Eastern architecture make Agrabah a unique city with festive personality.
The Sultan rides through the crowd on a large grinning elephant.
Jafar poses in the distance, overlooking the city with glaring eyes. Jafar is the most powerful sorcerer in the land and has control of the palace where Jasmine lives.
The parrot, Lago, is taking place in the excitement and flies overhead the celebration.
Did you know that the flying carpet is named "Magic Carpet?"
Copyright: © Eric Dowdle © Disney © 2021 Art Brand Studios, LLC. All rights reserved.
Title Aladdin – Celebration in Agrabah
Published February 2021
Collection Disney Collection