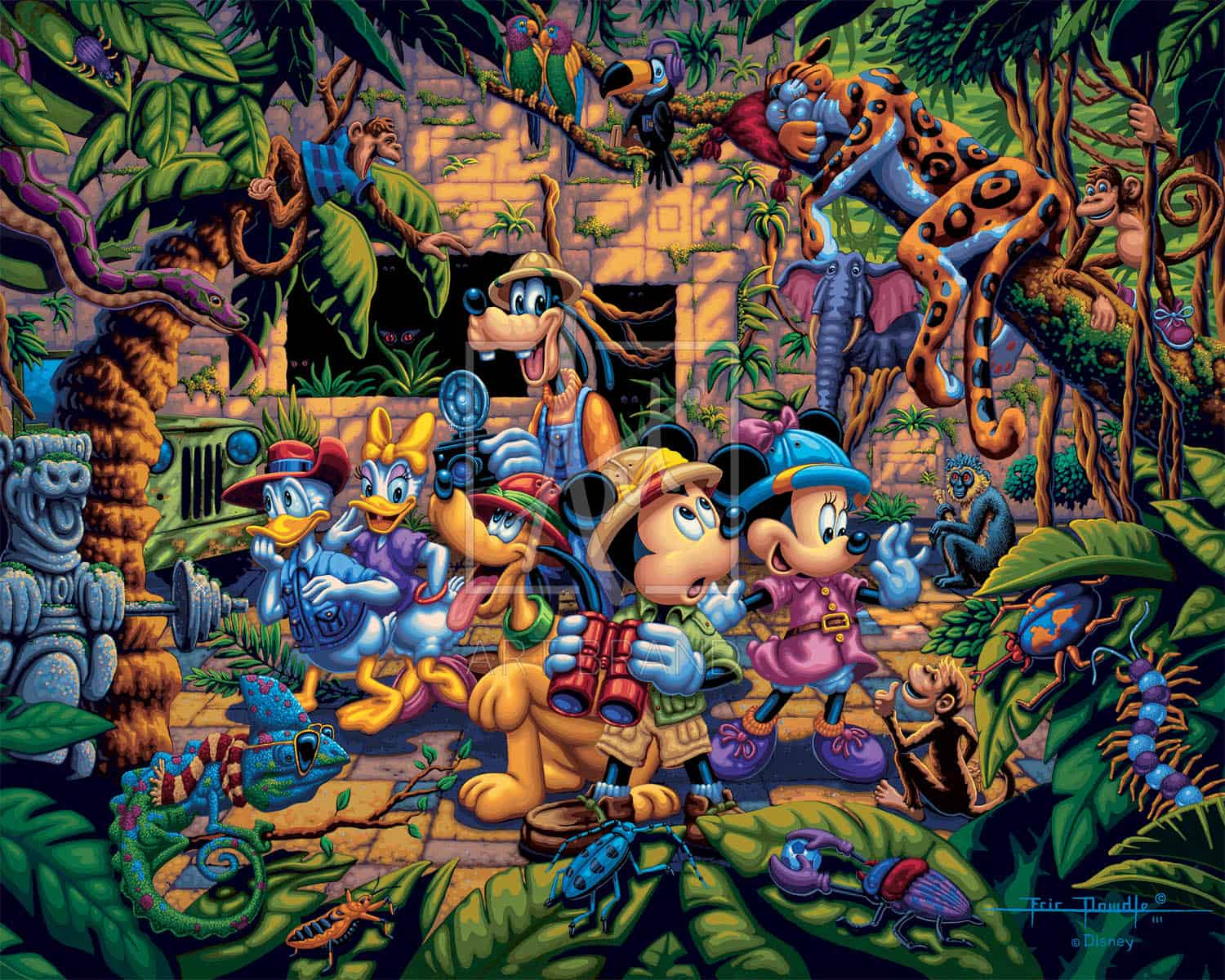 Gallery Director Notes
Art Brand Studios and Eric Dowdle have teamed up for a breathtaking collection of Disney folk art, portraying magical moments of everyone's favorite classic Disney cartoon characters. Painted in his whimsical, patriotic art style, this collection will stir up nostalgic and cheerful emotions while reminding us that our vast and extraordinary world is quite intimate. Allow us to take you to places around the world that you will never want to leave with our collection of Disney and Dowdle fine art.
Art Notes
Growing up my backyard was hundreds of miles of what some people would call "a whole lot of nothing". It felt like I lived on the edge of the frontier because, well, we did. Miles and miles of unexplored rocks, hills, cliffs, and ravines with animals as dangerous and scary as the stories we heard. Wyoming was still considered "The Wild Frontier". So of course we had to go exploring. Taking our best friends and heading out on a great adventure was how we passed the time.
Exploring the jungle with Mickey and Friends is meant to bring back those thrills of knowing mischief is around every corner followed by certain danger with a dash of doom and just enough hope to know that everybody's going to be OK. Mickey and friends show that if you can laugh, be daring and trust in each other, life can be a great adventure.
Art Notes
Eyes peer out of the temple ruins in the background. How many sets of eyes do you see?
The lush jungle vegetation supports a variety of creatures great and small, including a chameleon, a variety of insects, a snake, birds, monkeys, and even a leopard and an elephant!
Donning classic safari gear, Mickey and Minnie, Goofy, Pluto, and Donald Duck and Daisy Duck take in the bold and awe-inspiring sights of the jungle.
How many monkeys can you find?
Whimsical details hide throughout the painting, including a beetle grasping onto a soccer ball, a leopard taking a cat nap, and toucan listening to his favorite tunes.
Copyright: © Disney © The Thomas Kinkade Estate. All rights reserved
Title Mickey And Friends Exploring The Jungle
Published January 2020