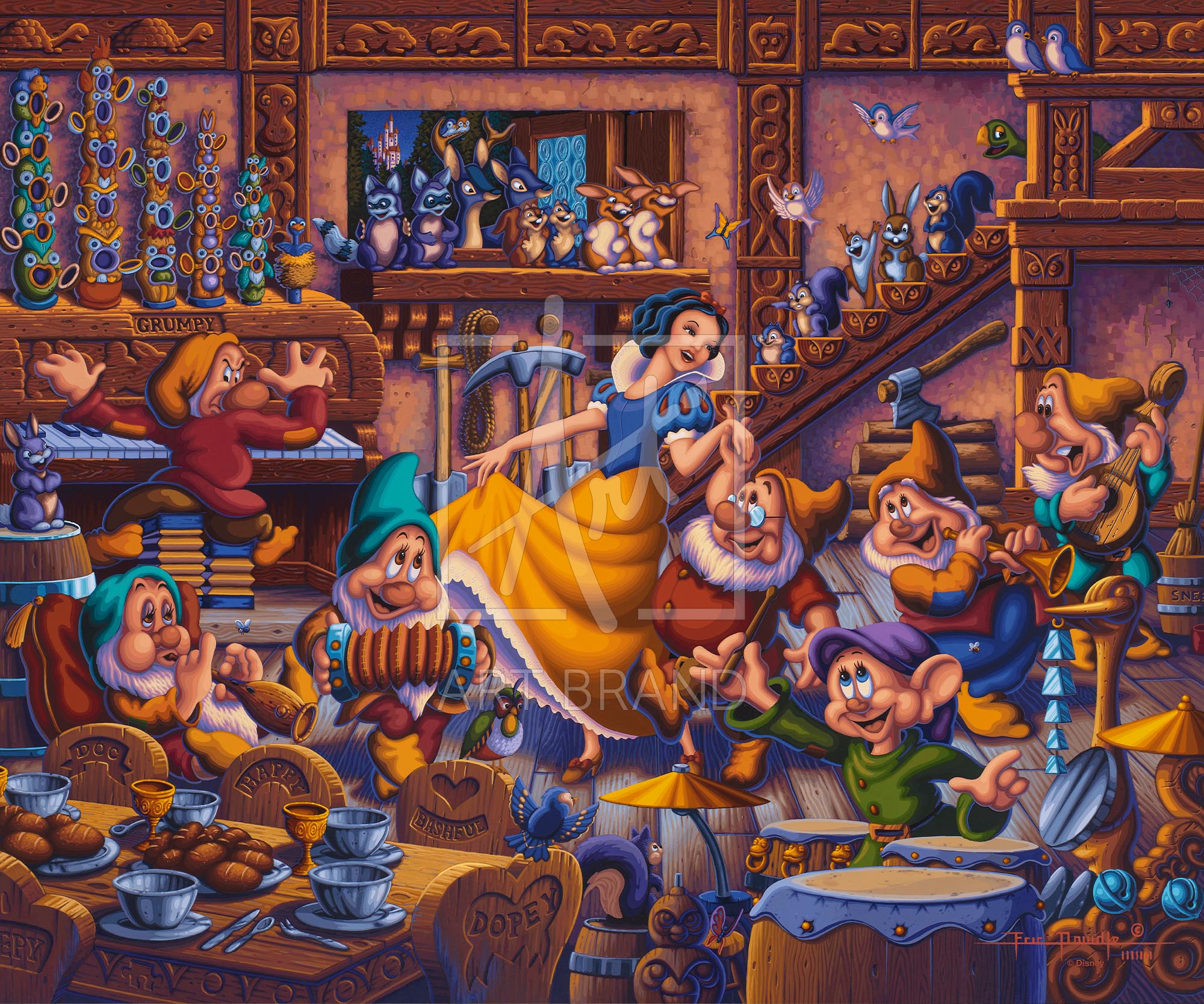 Art Notes
Sometimes the best celebrations in life are unplanned. If people just start showing up at my house for no reason, the word gets out. Before long neighbors are in the backyard. People are texting and inviting friends. The party slowly percolates until somebody starts playing the music…. And then, a full on celebration breaks out, as some of the best and worst dance moves are displayed on the patio. The evening goes on until we have worn ourselves out with what can only be described as an aerobic exercise of laughter and lunacy.
This is what the scene of the Dwarfs dancing with Snow White feels like from Walt Disney's first major motion picture: Snow White and the Seven Dwarfs. A slow discovery of fun that breaks into a celebration. Trying new things as they get to know the mysterious Princess. That moment bonds the characters together. It's what I experience in my backyard when we let all of our insecurities and pretensions go and just enjoy good company. Our status and achievements are not qualifications to dance, celebrate and have a great time.
– Eric Dowdle
Key Points
Snow White Dancing with the Dwarfs is the 7th painting in the Disney Collection by Eric Dowdle, and the fourth one featuring a Disney Princess. Little Mermaid Part of Your World, Cinderella's Enchanted Evening, and Beauty and the Beast Finding Love are the first three paintings in the series dedicated to Disney Princess characters.
The names of all Seven Dwarfs are carved in wood throughout their home. Can you find them all?
How many types of woodland animals do you see participating in this joyful celebration?
The poison apple is hidden in this scene. Can you find it?
Eric Dowdle's signature rooster is creatively disguised in this painting.
Eric Dowdle is well-known for his puzzle collection. Can you find the hidden nod to this fan-favorite?
Copyright: © Disney © The Thomas Kinkade Estate. All rights reserved
Title Snow White Dancing with the Dwarfs
Published August 2020
Collection Disney Collection