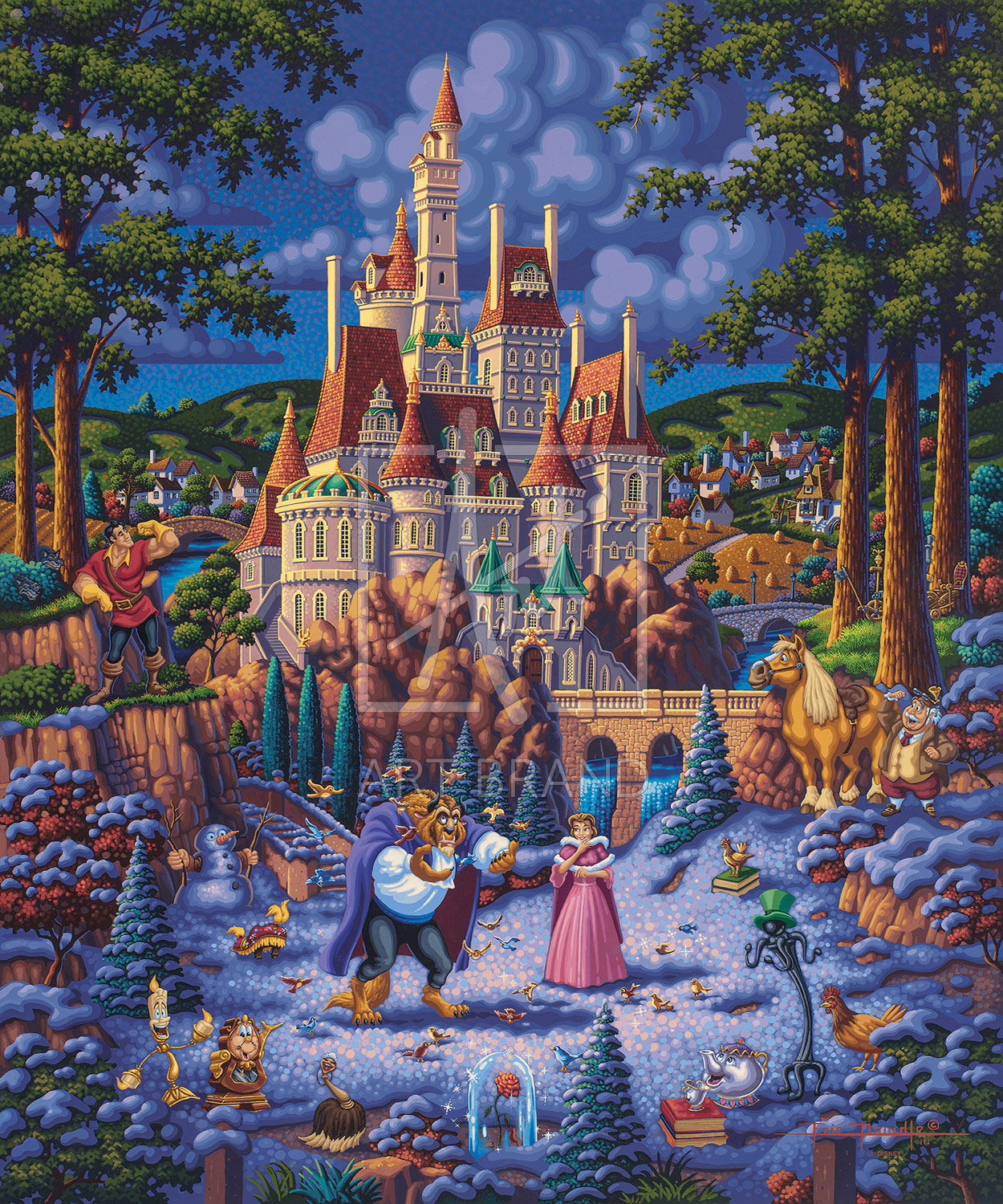 Art Notes
The age-old question of what inner beauty really looks like? This story gives hope to us all! Give it a try. Be nice. Think of others first. Who knows, you might find it to be your best feature. And when the right person comes along they might discover something that they have been looking for all their life.
That discovery is the moment I chose to highlight in my painting of "Beauty and the Beast Finding Love." It's hard to say when it happens. That moment, when you start to see someone for who they really are. But when you do, you will know for sure that you will never see them the same again.
If you ever get the chance to meet my wife you'll find the rare combination of inner and outer beauty. We love this scene in the story because the falling in love process is something we have enjoyed looking back on over the years. We like to reminisce as much as the next couple and I believe that's what Disney would like all of us to experience over and over again.
Key Points
This scene is set in the moment when Belle and the Beast begin to fall in love. As she helps him try to feed the birds in the snow, love blooms, underlining the theme of the story – that a person's beauty lies within.
This painting features favorite characters including Mrs. Potts, Chip, Lumiere, Cogsworth, Coat Rack, Babette, Maurice, Philippe, and Sultan.
Gaston can be seen preening in the background, and the wolves that protect The Black Forest are hidden in the bushes behind him.
The Enchanted Rose sits in the foreground of the painting, a reminder of the Enchantress' spell and the fact that time is running out for the Beast to find true love.
How many hidden roosters can you find in this painting? Eric Dowdle's signature classic rooster makes an appearance in some of his folk art masterpieces.
Copyright: © Eric Dowdle © Disney © 2019 Art Brand Studios, LLC. All rights reserved.
Title Beauty And The Beast Finding Love
Published August 2019