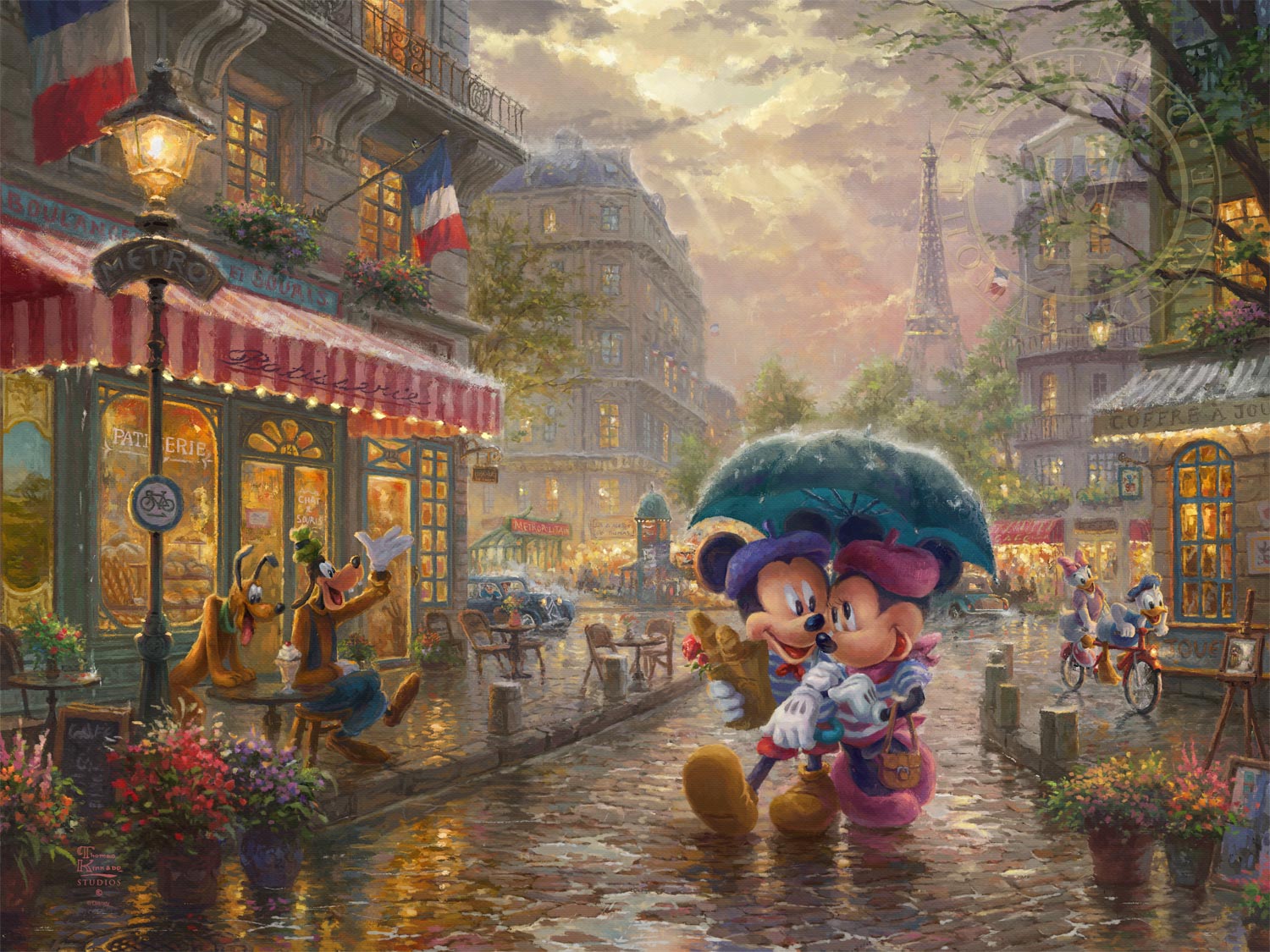 Art Notes
In the Passport to Adventure series by Thomas Kinkade Studios, Mickey and Minnie, along with some of their closest friends, explore famous travel destinations around the world. Mickey and friends find themselves on an adventure in arguably the most romantic city in the world, Paris! Dressed in traditional French attire, Mickey and Minnie enjoy playing tourist in their berets and striped shirts after spending the morning at the cafe. Behind them are their dear friends, Daisy and Donald, creating quite a splash on their tandem bikes as they ride through the puddle-filled streets of Paris. As Goofy greets his friends passing by, Pluto can't help but drool over the ice cream sundae that is left unattended.
Key Points
Ethereal light and clouds are perfectly depicted in the retreating rain as the sun is starting to break through the clouds and setting off a warm glow.

Thomas Kinkade's traditional lamppost can be seen lighting every storefront.

Streams of light radiate through the Eiffel Tower as the iconic statue pierces through cloudy skies.

There are five hidden elements throughout the painting. Can you find them all?

Everybody is enjoying themselves in Paris, even Pete and his friend Pegare are having a great time cruising around the City of Love.

Can you see the sign in the backdrop that says, La Gallery De Thomas? This is a call out to Thomas Kinkade.
Copyright: © Disney © 2018 Thomas Kinkade Studios. All rights reserved.
Title Mickey & Minnie In Paris
Published February 2018
Collection Passport To Adventure