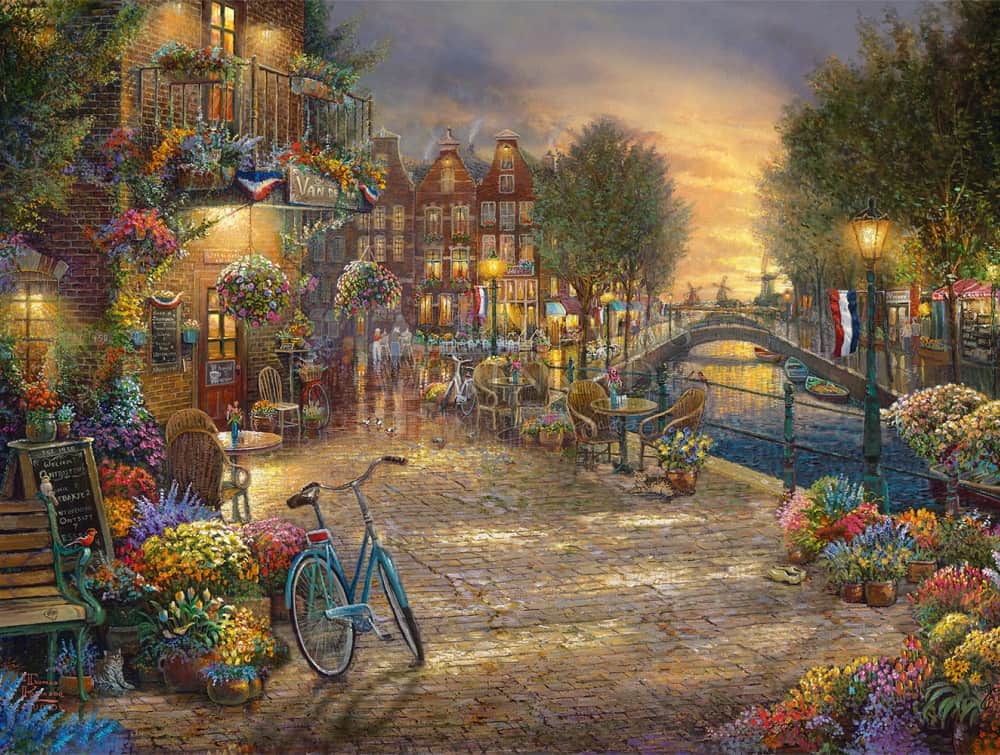 Art Notes
The setting sun's warm glow reflects upon the water in one of Amsterdam's famous canals. The distant windmills appear to move in the gentle breeze and evoke memories of "simpler times".
Thomas Kinkade loved plein air or open-air painting, and Amsterdam was a dream destination of his. Thom and his family were able to spend time in the historic city and paint in plein air in the surrounding countryside. Their shared memories recall the charm of Amsterdam and the simple act of riding a bicycle along the canal, where they would stop for hot chocolate, coffee, or a cool beverage, and of course, a pastry at the local café.
Thomas Kinkade Studios created Amsterdam Café, a painting that celebrates the historic beauty of Amsterdam and captures Thom's vision of this iconic city. Amsterdam Café invites you to enjoy the celebrated canal and imagine the delicious treats this city is famous for.
Key Points
Amsterdam Café is the fifth Limited Edition Art in the Romantic Moments collection. The other four paintings in the series are Italian Café, Venetian Café, French Riviera Café, and Munich Café.
Amsterdam is colloquially referred to as the "Venice of the North", attributed by the large number of canals which form a UNESCO World Heritage Site.
Could this be the same café where Thom and his family stopped for a time?
Might that be Thom with his wife, Nanette, painting in plein air?
The lovely bike on the bottom left is reminiscent of Nanette's own bicycle.
Adorable cats are included in most of the other paintings in the Romantic Moments collection. How many cats can you find lounging in Amsterdam Café?
Copyright: Art Brand Studios, LLC. © Thomas Kinkade Studios, All rights reserved.
Title Amsterdam Café
Published May 2020
Collection Romantic Moments