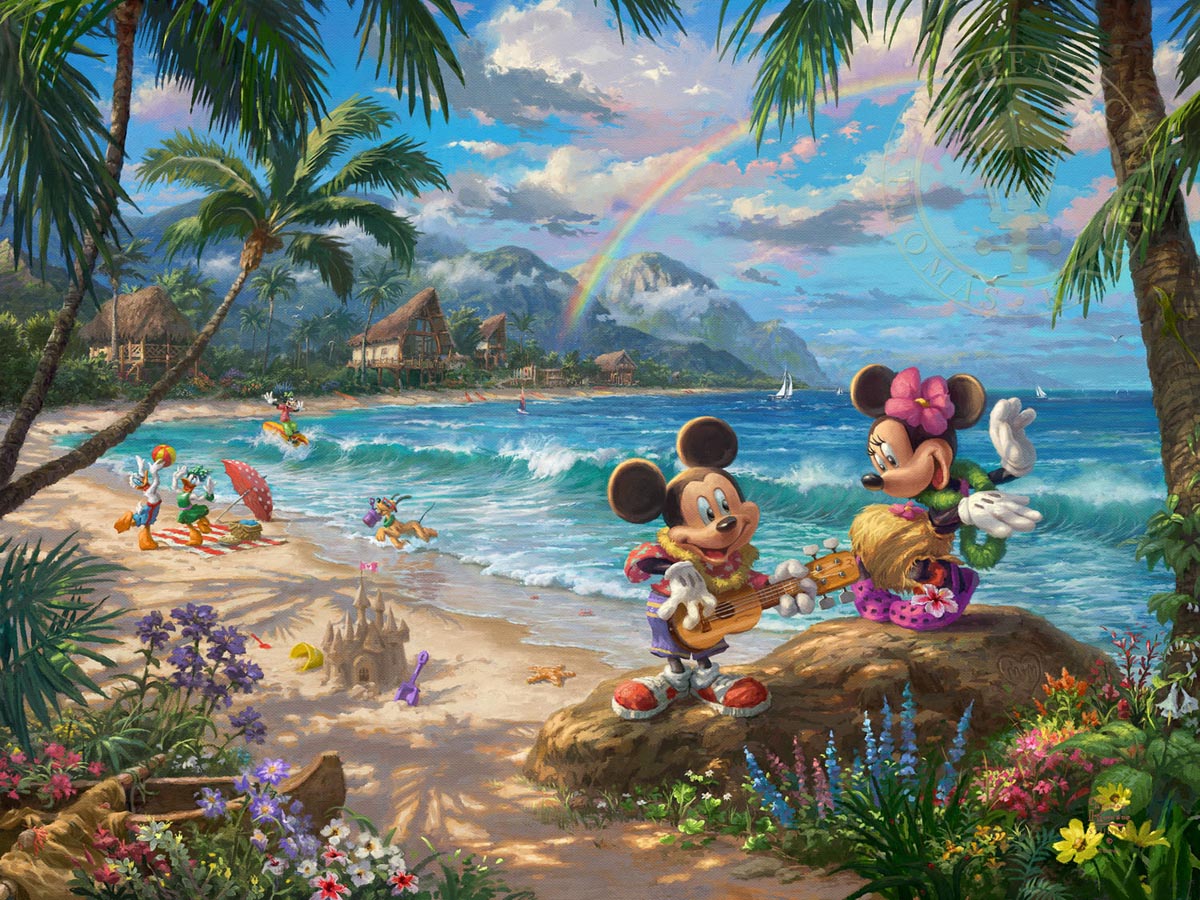 Art Notes
In celebration of the 80-year anniversary of this film, Thomas Kinkade Studios, inspired by the 1937 film, is proud to present
their newest painting – Mickey and Minnie in Hawaii as the first painting in the Passport to Adventure Collection. Beneath the rainbow covered mountains, one of Hawaii's most beautiful beaches has become the party place for Disney's most well-known cast of characters. As Minnie dances along to Mickey's ukulele serenade, even the sea creatures draw near to listen. But as Donald and Daisy stroll along the beach and Pluto splashes in the waves, it is Goofy who steals the scene with his perfectly clumsy antics.
The artists have gone to great lengths to incorporate several hidden elements with this painting. Can you find them all?
Just beneath Minnie's feet, is a heart carved into the rock with the initials, M+M.
Speaking of feet, did you notice the hearts on Minnie's shoes?
Mickey's ukulele is his very own, you can tell by the "M" engraved at the top.
Did you know that the flowers in this piece are all native to Hawaii?
There is something so familiar about that sandcastle, do you recognize it?
Goofy, an avid surfer, rides the wave like a pro, and in Goofy footed style.
While Donald and Daisy frolic on the beach, Pluto races the waves to shore.
Look closely and you'll see that there are four crabs in this painting, as well as seven ladybugs.
Copyright: © Disney © 2017 The Thomas Kinkade Estate
Title Mickey & Minnie in Hawaii
Published August 2017
Collection Passport To Adventure