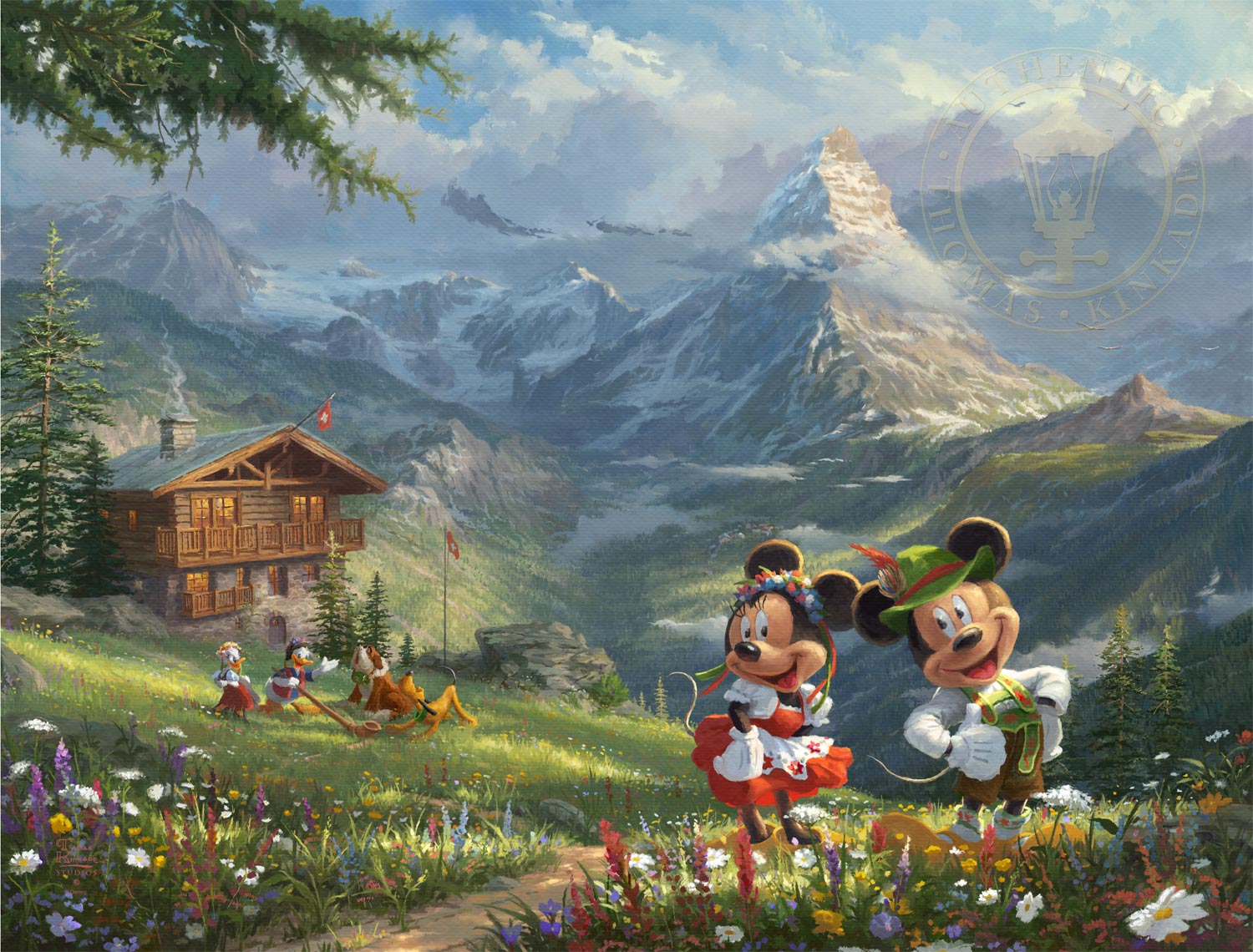 Art Notes
In the Passport To Adventure series by Thomas Kinkade Studios, Mickey and Minnie, along with some of their closest friends, explore famous travel destinations around the world.
There is no adventure too great or too small for this troop, and that includes hiking into the beautiful Swiss Alps. Mickey, Minnie, Daisy, and Donald are all wearing traditional Swiss attire. Donald found an alphorn that he couldn't resist playing, causing Pluto and his new friend, Bolivar, a mountain rescue dog, to start howling. Their alpine bungalow offers a front row seat to one of the most inspiring mountains in the world, the Matterhorn. Mickey & Minnie In The Alps incorporates not only your favorite Disney characters but also the awe-inspiring realism of notable landmarks, resulting in a beautiful piece of art.
Key Points
This warm sunny day couldn't get any better. The smell of pine trees and native wildflowers permeates the crisp alpine breeze.
They better enjoy this wonderful weather because the clouds are gathering around the Matterhorn. That's alright because when the cold front comes in they will be indoors sipping cocoa by the fire.
In the valley below, there is a small village, close enough to gather supplies, but far enough away to enjoy their friend-cation get-a-away!
Copyright: © Disney © 2018 The Thomas Kinkade Estate. All rights reserved.
Title Mickey & Minnie In The Alps
Painted December 2018
Published December 2018
Classification Thomas Kinkade Studios
Collection Passport To Adventure