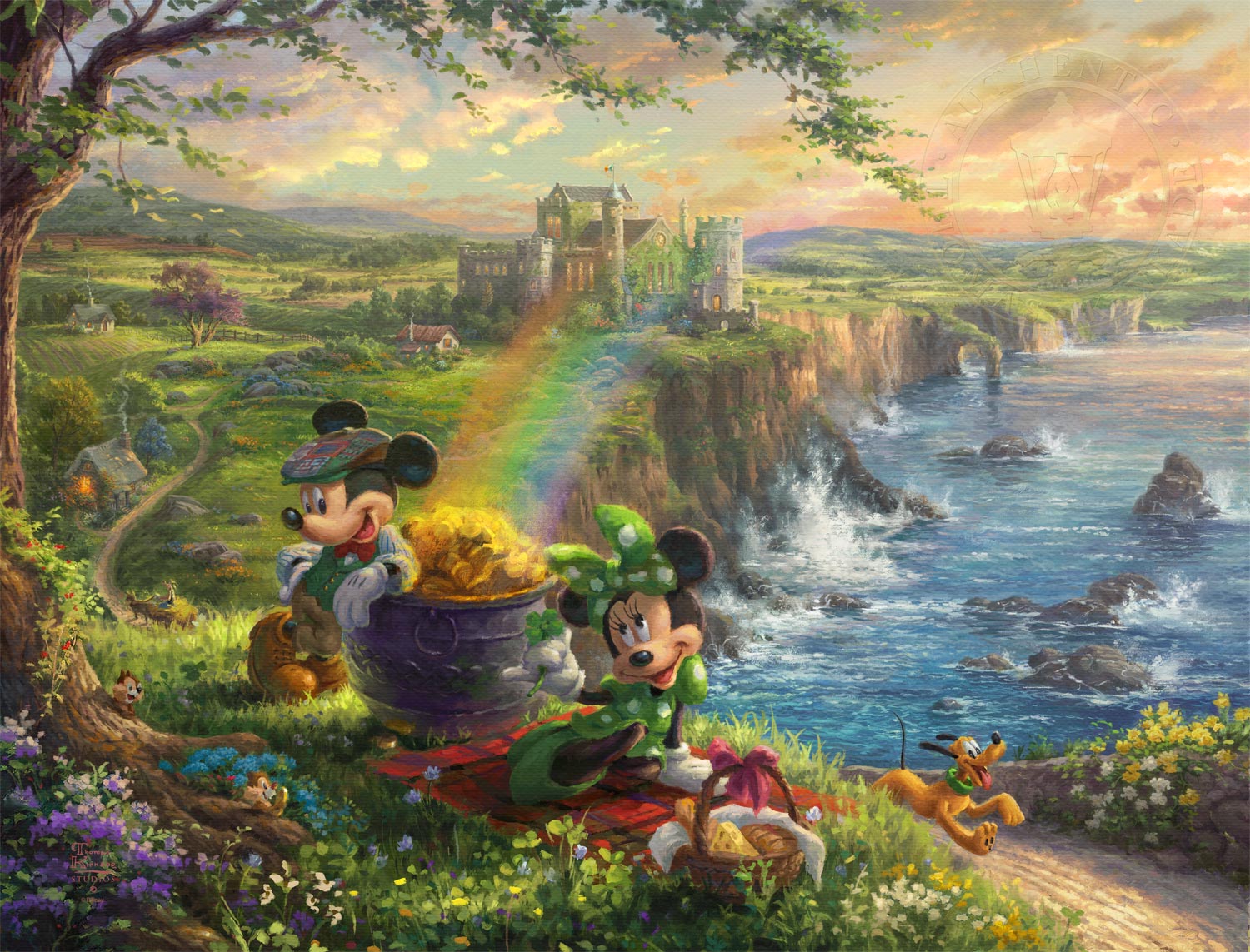 Art Notes
In the Passport to Adventure series by Thomas Kinkade Studios, Mickey and Minnie, along with some of their closest friends, explore famous travel destinations around the world. This time Mickey and friends find themselves on an adventure in Ireland! The Emerald Isle is often noted as being one of the most beautiful places on earth to visit, with its endless brilliant green hills and dramatic cliffs that reach down to picturesque beaches and a turquoise sea, along with magnificent castles and charming villages.
Dressed in the traditional color of the Irish, Mickey and Minnie seem to have luck on their side. Just as Minnie picked a four-leaf clover, a pot of gold at the end of a rainbow appeared out of nowhere to join their picnic! What a perfect ending to a such a magical day.
Key Features
Mickey and Minnie are dressed in the traditional color of the Irish.
Pluto is charging up the path, wanting to be the first to congratulate his friends on their lucky fortune.
Chip and Dale have switched their focus of attention from Minnie's picnic basket to the massive pot of gold that has just materialized!
Goofy is enjoying the country life, riding off towards his home for the night; a perfectly charming Kinkadian style cottage.
Kinkadian style light and clouds are perfectly depicted as the sun is starting to set, causing a warm glow of light to radiate across the land.
Copyright: © Disney © 2018 Thomas Kinkade Studios. All rights reserved.
Title Mickey & Minnie In Ireland
Published February 2018
Collection Passport To Adventure