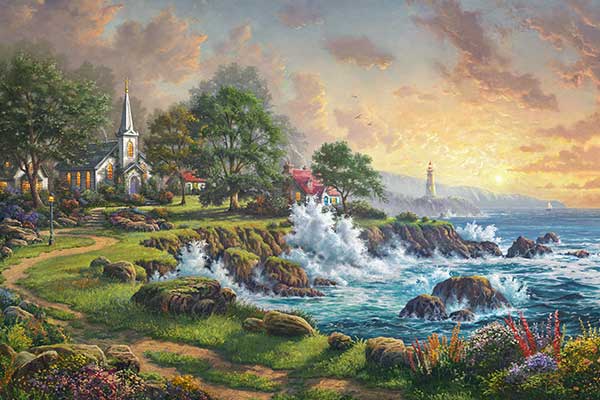 Temperatures are rising! Switch up your home decor for the season, or spread a little sunshine around any time of year with summer seaside paintings. Everything you love about the sea, the sand, and the sun can find a special place among your wall art with our great selection of beach paintings on canvas.
California Art By The Sea
No seaside art collection is complete without paintings of California. In the painting, Capitola Sunset, small pools fill as the tide goes out on a quiet evening shore. If you're looking for more of a statement piece, make sure to check out our seaside paintings featuring sailboats, crashing waves, seagulls, and the iconic Golden Gate Bridge – San Francisco, Golden Gate Bridge, and Sunset on Golden Gate Bridge.
Ocean Side Artwork Of Summertime Fun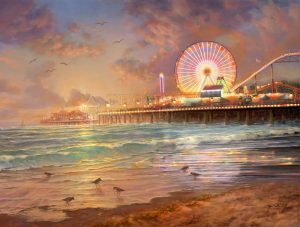 Sunset paintings can be less about quiet walks and more about the start of nighttime oceanside fun. In Sunset at Santa Monica Pier, rolling ocean waves reflect a Ferris wheel alight. Coney Island also stars a larger-than-life Ferris wheel, but we get to enjoy the view with the sun up and the shore full of families enjoying the day on and off the beach.
Disney Paintings At The Beach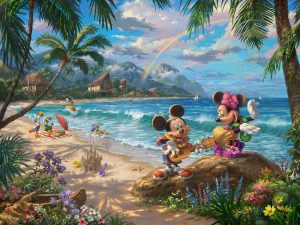 For the perfect seaside painting for a family space, look no further than Thomas Kinkade Disney artwork. Mickey & Minnie in Ireland breathes a fresh feeling into a room with its lush greenery and energetic, cool, clear waters. In Mickey and Minnie in Hawaii, Donald, Daisy, and Goofy join our favorite mouse couple among the palm trees and thatched roofs of the Hawaiian seaside.
Donald and Daisy – A Duck Day Afternoon gets the nephews involved in a bit of Frisbee, beach volleyball, and a quiet family stroll along the coastline.
Plein-Air Impressions Of The Seaside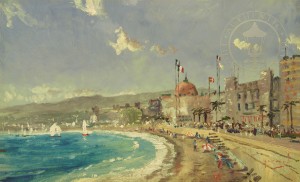 Why not accent your house, beach house, or office with the dreamy quality of impressionistic and Plein-air seaside paintings? The more you study this unique artwork, the more you see and the easier it is to imagine yourself there.
Shop Seaside Paintings In California
Adding seaside paintings to your wall decor is a walk on the beach when you visit a Thomas Kinkade fine art gallery in California. We invite you to stop by and see us in Carmel, Monterey, and Placerville today.