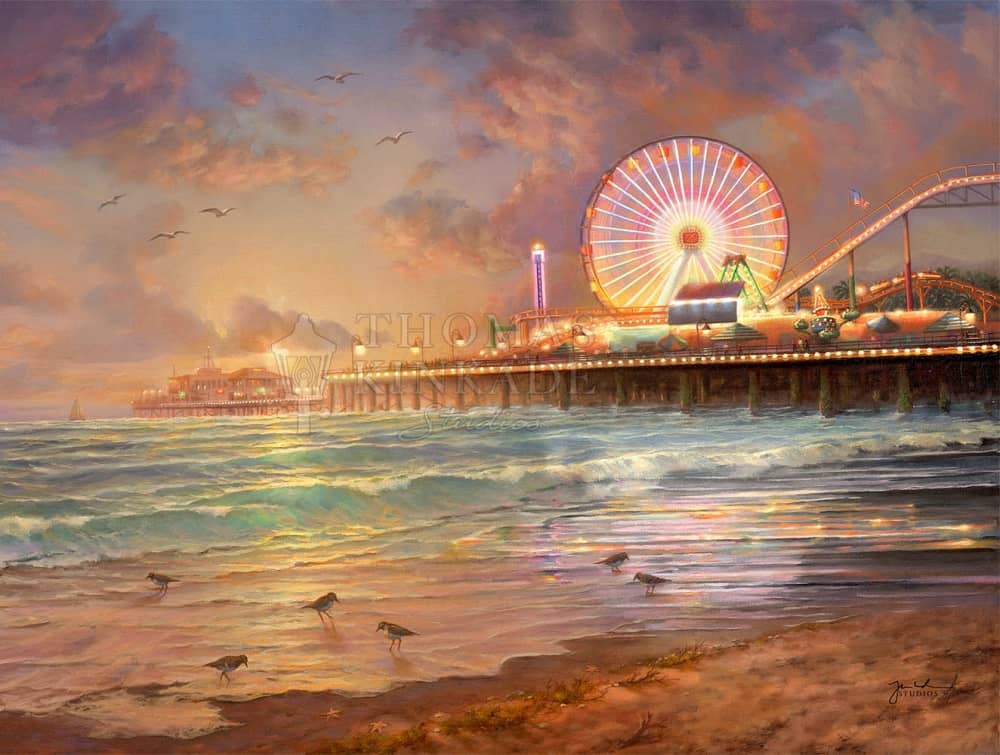 Art Notes
Every traveler knows that they have arrived in Santa Monica, California when they see the Santa Monica Pier extending into the inviting waters of the Pacific Ocean with its historic amusement park and its iconic Ferris wheel, brightly lit, welcoming visitors with the promise of fun memories to be made.
This historic landmark is known for its breathtaking view of the ocean and for the excitement and joy that it's brought to visitors for over a century. Although many attractions have come and gone over the decades, the Santa Monica Pier and its adjacent Looff Hippodrome have remained – bastions of beauty and a nostalgic reminder to stop and enjoy life with the ones you love.
If one stands perfectly still on the soft beach, reflecting on the colors emanating from the pier and listening to the calliope of sounds bouncing off the water, you will feel the harmonic embrace of man and nature. Thomas Kinkade Studios' Sunset at Santa Monica Pier brings to life the vibrancy of the setting sun reflecting off the picturesque pier and the magical sounds of fun rolling across the ocean waves. This painting is a celebration of natural beauty and cherished family memories.
Key Points
Constructed in 1909, Santa Monica Pier was the first concrete pier on the West Coast.
A Santa Monica Historic Landmark, it is a large double-jointed pier that is home to an amusement park, aquarium, arcade, and restaurants. It also offers stunning viewpoints for visitors to enjoy the Pacific Ocean and fish.
The Santa Monica Looff Hippodrome, adjacent to the pier, opened in 1916 and housed several wondrous attractions. A National Historic Landmark, this structure is now home to the Philadelphia Toboggan Company's iconic Carousel #62. Built in 1922, the carousel features 44 hand-carved horses and a calliope.
Sunset at Santa Monica Pier is the second Thomas Kinkade Studios painting to pay tribute to an iconic California beach attraction. The first was Thomas Kinkade's Footprints in the Sand, which captures the stunning beauty of Pismo Beach.
Copyright: Art Brand Studios, LLC. © The Thomas Kinkade Estate, All rights reserved.
Title Sunset at Santa Monica Pier
Published July 2020
Subject Location Santa Monica, California