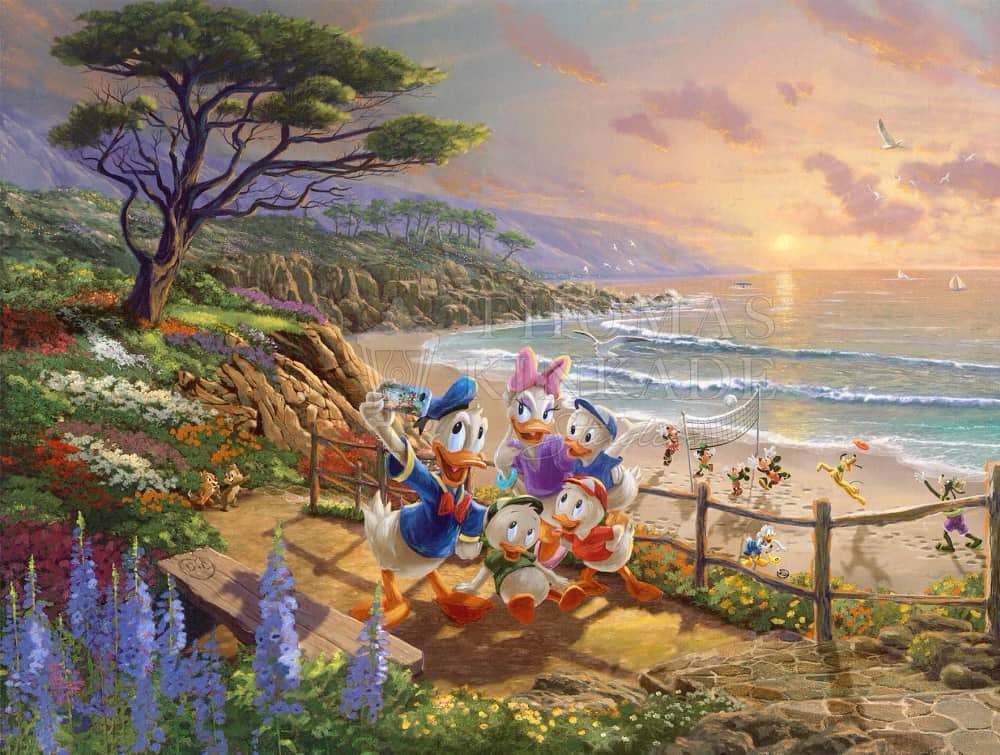 Art Notes
Thomas Kinkade was a life-long admirer of Walt Disney and the wonderful characters he created. In collaboration with Disney, Thomas Kinkade Studios has created the Friendship Moments, a collection of art featuring favorite characters and their best friends painted in beautiful Kinkade settings.
Thomas Kinkade Studios presents the second painting in the Friendship Moments, Donald and Daisy – A Duck Day Afternoon, where the bright sunshine highlights the coastal adventures of Donald Duck, Daisy Duck, and some of their dearest friends.
Huey, Dewey, and Louie join Uncle Donald and Daisy for the perfect selfie commemorating their family trip to the beach. Mickey Mouse and Minnie Mouse are enjoying a rousing game of volleyball on the beach with Mickey's nephews. Pluto and Goofy play Frisbee, while Scrooge McDuck uses his radar detector to find buried treasure in the beach sand.
Key Points
Donald and Daisy – A Duck Day Afternoon is the second Limited Edition Art release in the Thomas Kinkade Studios Friendship Moments. The first is Mickey and Minnie Lighthouse Cove.
Although Donald Duck and Daisy Duck have been featured in several paintings from the Thomas Kinkade Studios Disney Dreams Collection, this is the first artwork in which they are the central characters.
Donald Duck first appeared in the 1934 cartoon The Wise Little Hen, and Daisy Duck was introduced six years later in the 1940 cartoon Mr. Duck Steps Out.
Chip and Dale look as if they want to spoil the selfie, but the photobombing seagull beats them to it.
Do you see the whale playing off the coast?
Can you name Mickey Mouse's twin nephews?
Copyright: © Disney © 2020 Art Brand Studios, LLC. © Thomas Kinkade Studios, All rights reserved.
Title Donald and Daisy – A Duck Day Afternoon
Published August 2020
Collection Disney Dreams Collection
Friendship Moments Series