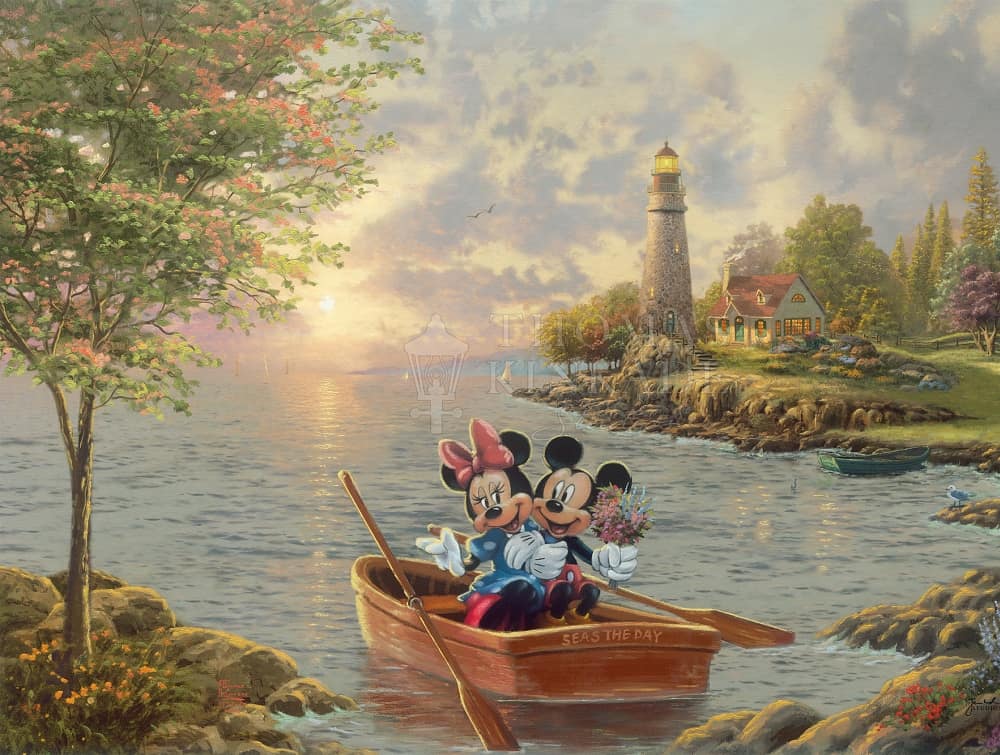 Art Notes
Thomas Kinkade was a life-long admirer of Walt Disney and the wonderful characters he created. In collaboration with Disney, Thomas Kinkade Studios has created the Friendship Moments series, a collection of art featuring favorite characters and their best friends painted in beautiful Kinkade settings.
In Mickey and Minnie Lighthouse Cove by Thomas Kinkade Studios, we find the pair enjoying each other's company as the evening breeze softly blows the waves onto the rocks. The vibrant colors of the flowers and the verdant seagrass makes the time spent together even more beautiful.
Key Points
Mickey and Minnie Mouse Lighthouse Cove is the first Limited Edition Art in the Friendship Moments series.
Mickey Mouse and Minnie Mouse are the most popular characters in the Disney Dreams Collection, with fourteen works of art featuring the pair. (Fun Fact: Fantasia is the only Thomas Kinkade Studios artwork that includes Mickey without Minnie.)
Because of their popularity, Thomas Kinkade Studios chose to begin the Friendship Moments series by painting these iconic characters in a classic Kinkade setting, featuring a signature lighthouse and cottage.
Copyright: © Disney © 2020 Art Brand Studios, LLC. © Thomas Kinkade Studios, All rights reserved.
Title Mickey And Minnie – Lighthouse Cove
Published July 2020
Collection Disney Dreams Collection
Friendship Moments Series