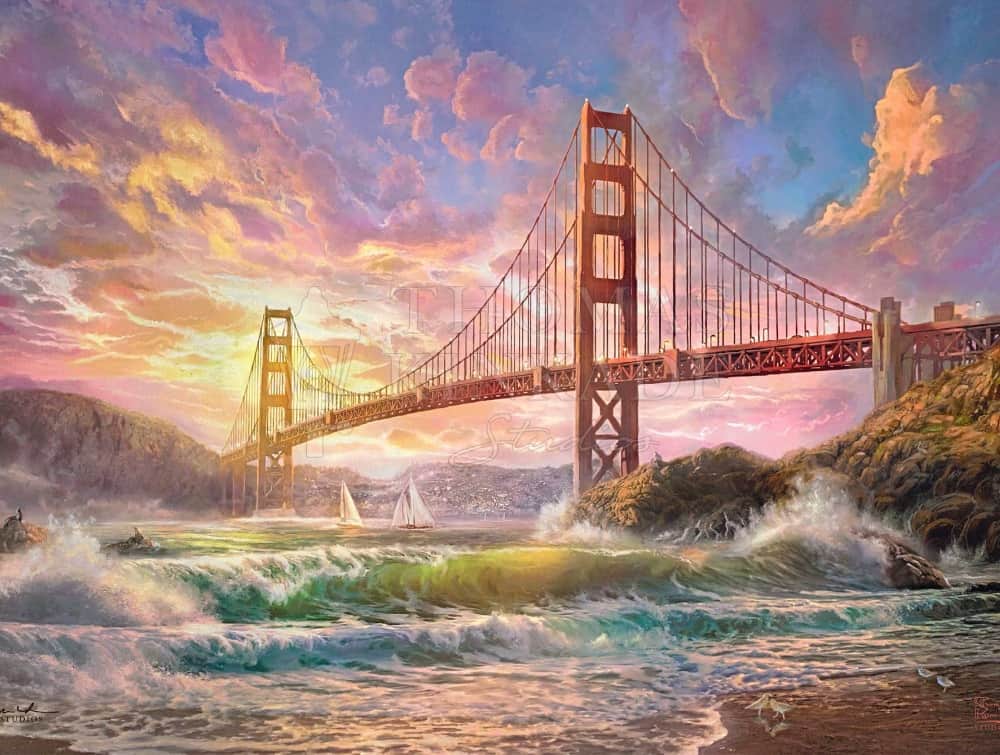 Art Notes
In 1995, Thomas Kinkade painted one of his most iconic depictions of San Francisco. Thom stood on the Marin Headlands, near the Golden Gate Bridge, looking south across the Bay towards the City of San Francisco. From this stunning vantage point, he created the sketches for the painting that would become Golden Gate Bridge, San Francisco.
In tribute to our founder and one of the world's most beloved bridges, Thomas Kinkade Studios has painted it from a new perspective in Sunset on Golden Gate Bridge. This breathtaking scene captures the landmark from a beach with a northern view, as Sandpipers dance in the Pacific surf and adorable Sea Lions sunbathe on the rocks in the setting sun. As the sun begins to set, passengers on sailboats enjoy the exquisite view.
Key Points
The Golden Gate Bridge is one of America's most iconic bridges. Designed by Joseph Strauss and named one of the "Wonders of the Modern World" by the American Society of Civil Engineers, it is one of the most beautiful bridges in the United States.
Located in the San Francisco Bay, it connects the City of San Francisco with Marin County. Prior to its construction, ferry service was the only way to traverse the waterway. The Golden Gate Bridge played a significant role in the growth of San Francisco as a gateway to the world.
Thomas Kinkade Studios painted Sunset on Golden Gate Bridge during the 85th Anniversary year of the bridge's completion. It opened to national fanfare on May 27, 1937.
At the time of its construction, the Golden Gate Bridge was the longest and tallest suspension bridge in America.
Thomas Kinkade felt a strong affinity for San Francisco and for the Golden Gate Bridge. In addition to being the subject of his Sold Out masterwork, Golden Gate Bridge, San Francisco, Thom featured it in several of his paintings including City by the Bay, San Francisco, Powell Street, The Heart of San Francisco, and San Francisco, A View Down California Street from Nob Hill.
The artists of the Thomas Kinkade Studios chose to set this painting at sunset to capture the wonder of the San Francisco Bay at dusk. Thomas Kinkade felt strongly that people could always find joy in the beauty of a sunset, and carrying on in his tradition, the Studio artists wanted to transport the viewer to this spectacular moment and place.
Sailboats are another recurring them in Kinkade art. They both symbolize the excitement of a journey and the value of perseverance through difficult times. In addition to capturing a historic landmark, Sunset on Golden Gate Bridge is symbolic of both adventure and the rewards of overcoming challenges.
Estate Edition Sketch
Here is the E/E sketch for Sunset on Golden Gate Bridge.
Edition Features
Textured Brushstroke Process
Additional Highlighting
Small Edition Size
Authorized Signature In Silver
Unique Hand-Drawn Sketch On The Back Of The Canvas
Copyright: Art Brand Studios, LLC. © The Thomas Kinkade Estate, All rights reserved.
Title Sunset on Golden Gate Bridge
Published March 2022