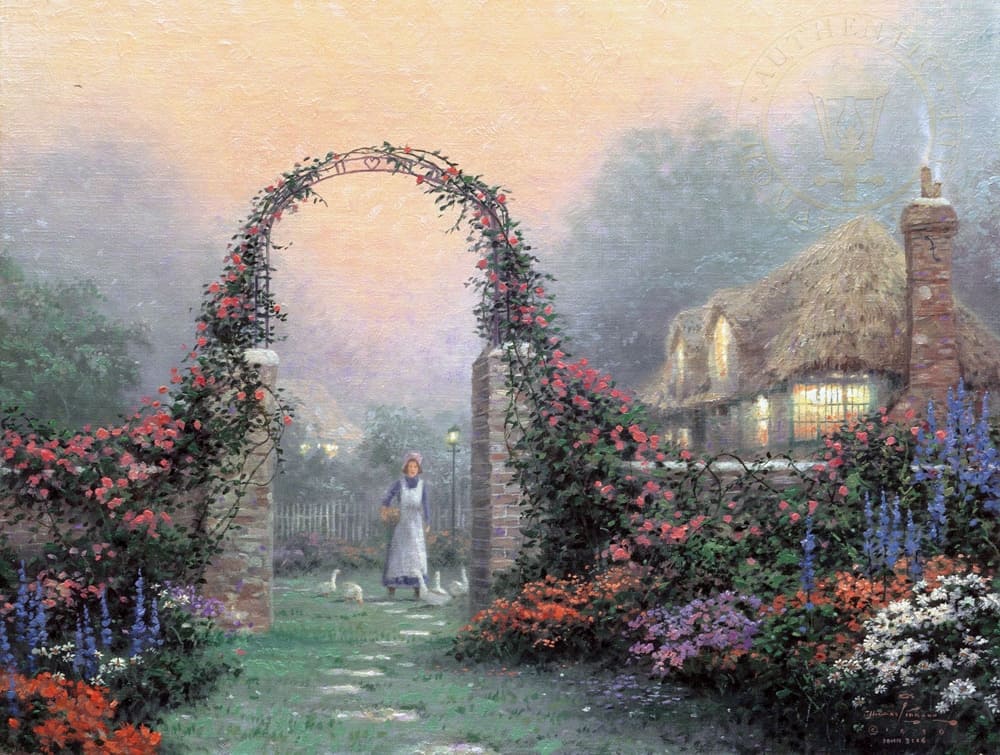 At the Thomas Kinkade galleries in California, we carry beautiful painting collections for home gallery walls. Whether you have a love of gardens, are well-traveled, or have a special place in your heart for all things Disney, our knowledgable art consultants will help you put together the perfect assortment of artwork for walls, big or small.
Hang A Bouquet
Would you like to create a stunning garden that never needs watering, sunlight, or even weeding? With fine art from our gardens collection, you can enjoy your favorite flowers year-round right in the comfort of your home.
Bring Roses Centerstage
Do you love roses? Consider designing a gallery wall with different rose paintings such as A Perfect Yellow Rose, A Perfect Red Rose, The Rose Garden, The Rose Garden, Portland, and The Rose Arbor Cottage.
Faith & Flowers For Your Walls
Or perhaps you would like to have a home gallery wall with faith-filled floral paintings. Consider displaying Pools of Serenity, Stairway to Paradise, The Garden of Prayer, and The Garden of Hope.
The World On Display
Create an exciting gallery wall showcasing beautiful and charming locations from around the world. Bring the romance of Paris into a bedroom with Paris, City of Lights, Notre Dame Paris, Paris Eiffel Tower, and of course, Paris, City of Love.
A Collection Of Quaint Cafes
Fine art featuring European cafes, with their delightful architecture and floral-dotted tables lining cobblestone streets, would make a lovely addition to a kitchen or dining room. Consider paintings such as Amsterdam Café, French Rivera Café, Munich Café, and Venetian Café for your home decor.
Canvas Art For Disney Fans
If you are looking for ideas for the young or the young at heart, you will love the paintings on canvas from our Disney collection. A home gallery wall featuring this stunning Disney art is sure to create a magical room.
Gallery Paintings For Your Home
We invite you to visit one of our California Thomas Kinkade galleries to see the beauty and details of these paintings in person. Our art consultants will help you create a gallery wall that can be enjoyed for years to come.