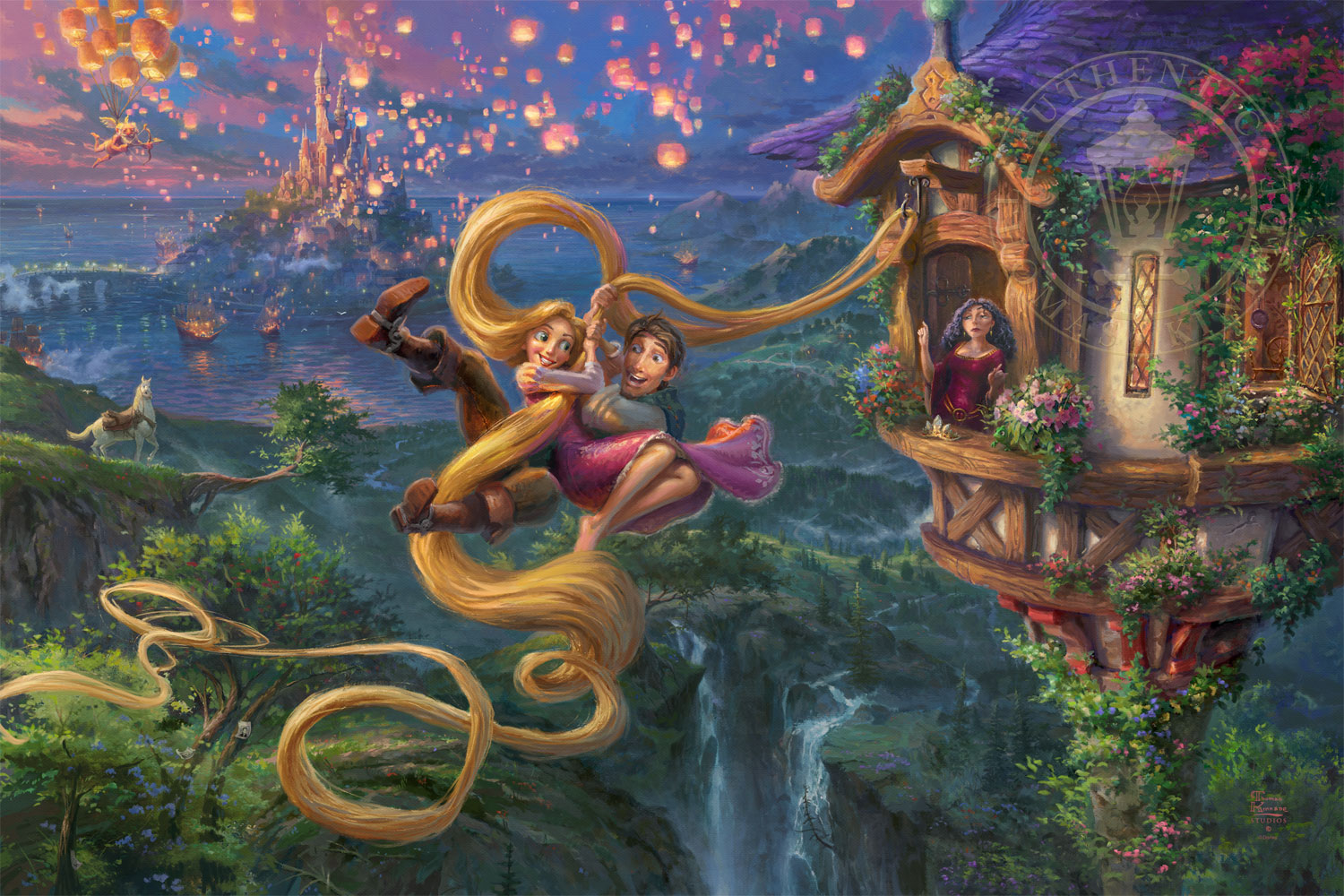 Art Notes
When the kingdom's most wanted and most handsome bandit, Flynn Rider, hides in an old and mysterious tower, he instantly becomes captured by Rapunzel, the spire's beautiful and longtime resident. Crowned with 70 feet of magical golden hair, she has been locked away for years and desperately wants freedom. The feisty teenager negotiates a deal with Flynn, and together they begin a whirlwind adventure full of excitement–and possibly love.
Key Points
Rapunzel realizes that this is her chance to be free and explore the world around her, and she forces Flynn to agree to her deal — they'll leave the tower together, and he'll take her to see the floating lights the next night, then bring her back home the next day before Gothel returns.
Maximus, a palace horse from the Corona guard, is still searching for Flynn after his grand escape.
In the distance, you can clearly see Flynn's wanted posters.
Cupid is seen flying through the clouds, hinting at the love that will soon blossom.
Mother Gothel has always been Rapunzel's motherly figure. However, the floating lights from the castle start to raise questions and now her immortality and youthful looks are at risk.
Pascal the chameleon is constantly cheering Rapunzel up, rooting her on, and refusing to allow her to take any steps backward.
In the open window, you can see Rapunzel's frying pan, the weapon she used to knock Flynn out.
Copyright: © Disney. © 2018 Tomas Kinkade Studios. All rights reserved.
Title Tangled Up in Love
Published April 2018
Collection Disney Dreams