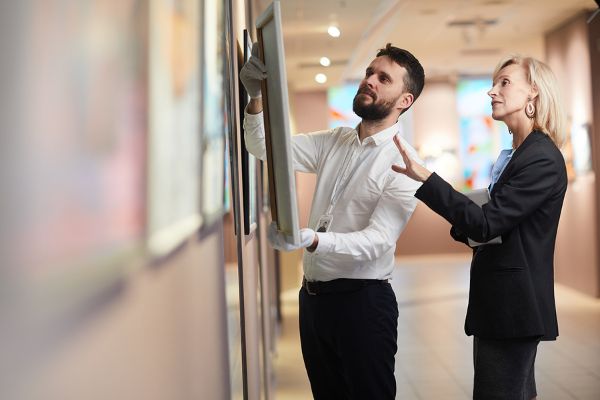 It's time to choose art for your office, but where do you start? It can be tempting to buy any old thing to fill up white walls fast, but with a little forethought, you can make decisions about your business decor that benefit employees and customers alike.
5 Tips For Choosing Art For The Office
Stick To Your Business's Brand
Employee Spaces Need Art Too
Make A Big Impression With Office Statement Pieces
Don't Be Afraid To Mix Up Painting Sizes
Get Professional Art Advice
1. Stick To Your Business's Brand
You've spent time deciding what you want to represent and how you want your company to be perceived. Whether you are a tech startup, a doctor's office, or in investments and banking, you want to stand out from the competition.
Like your logo, website, stationary, and business exteriors, paintings for offices can be another way to express yourself as a company. For example, if bright and cheery is your aim, check out this office art:
2. Employee Spaces Need Art Too
Before you start buying art, you'll also want to think about employee spaces. What types of paintings will inspire your creatives or have professional staff looking forward to Monday morning team meetings?
Don't be afraid to go fun in these areas. A conference room featuring The Avengers might be just the example of teamwork your staff needs or the tip to colleagues that you have a sense of humor, and you're not afraid to express it.
3. Make A Big Impression With Office Statement Pieces
High Country Wilderness or Wine Country Living are beautiful paintings available in eye-catching large sizes. Make sure to accent your corporate painting collection with statement pieces like these in an impactful location like lobbies and entryways.
4. Don't Be Afraid To Mix Up Painting Sizes
When you start collecting art for your office, it can be hard to choose just one painting. Our fine art galleries make this problem a non-issue by offering beautiful collections on a theme in a variety of sizes.
If you find yourself reaching for Munich Café, ask about other paintings in the Cafe' collection. If your tastes lean more towards West Rim, Yosemite, ask to see more paintings that feature national parks. Then, vary the sizes and create a gallery wall.
5. Get Professional Art Advice
If you know the mood or color palette you are aiming for, but aren't sure about which types of wall art really fit the bill or are appropriate for office environments, we invite you to stop by and chat with a professional. Whether you're closer to our Carmel art gallery, Monterey Bay art gallery, or Placerville location, knowledgeable Art Consultants are happy to answer your questions.
Shop Office Wall Art In California
At the Thomas Kinkade galleries of Placerville, Monterey, and Carmel, we look forward to showing you all the options you have available for office artwork. Stop by and see us today to see paintings for waiting rooms, lobbies, break rooms, and all the spaces you get work done.