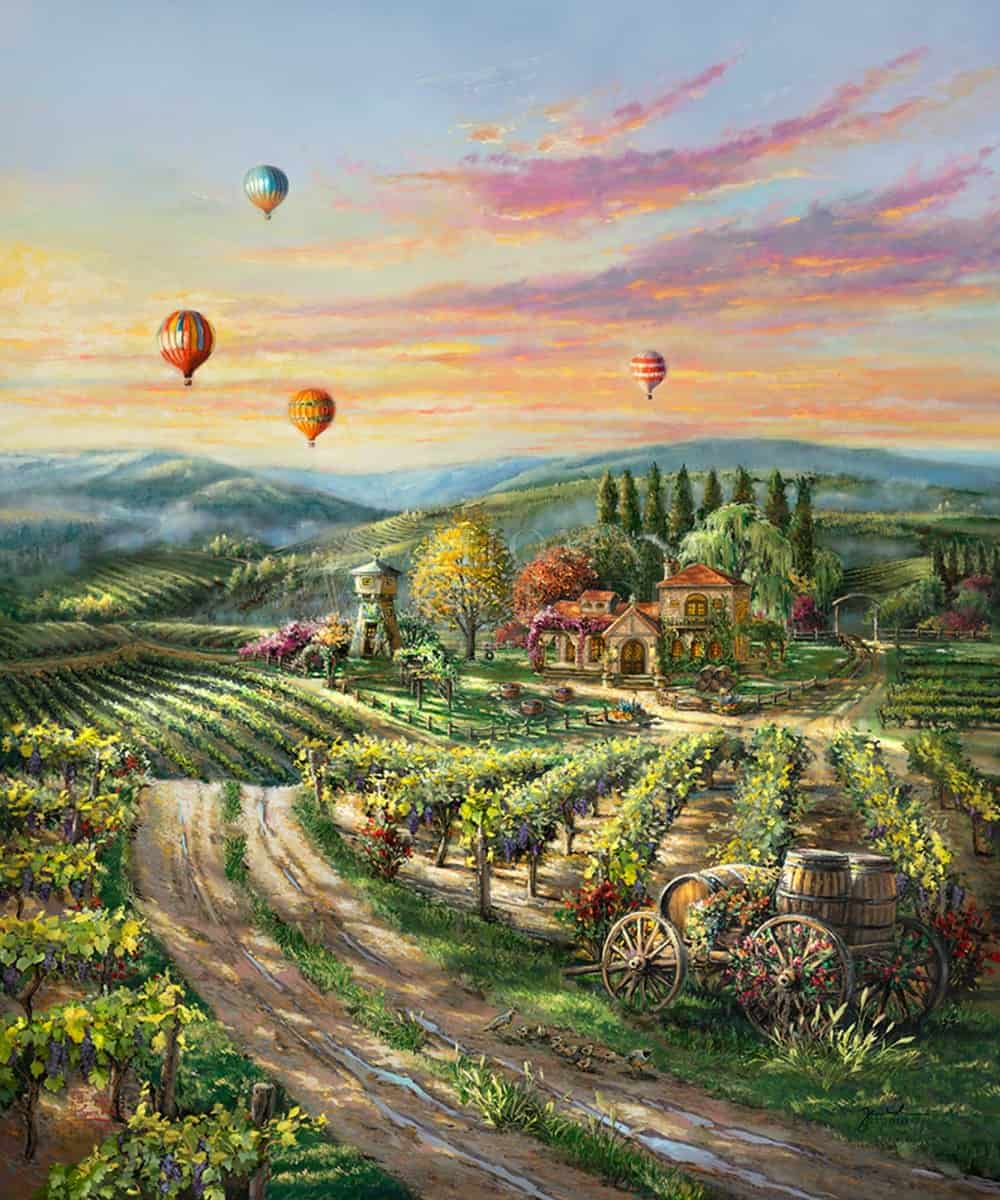 Art Notes
"God is truly the giver of all good gifts, and the natural process of growth and harvest each year throughout the globe testifies to this."
~ Thomas Kinkade
The incredible fruitfulness of the good earth is symbolized in this blossoming vineyard. The rolling hills glow a verdant green in the sunshine, and the ubiquitous hot air balloons seem to drift lazily in the morning sky. The valley fog is retreating as the sun starts to shine brightly on the grapevines. The dogs head off on their day to keep the family's vineyard safe. Thomas Kinkade Studios invites you to walk down the road and enjoy a taste of Peaceful Valley Vineyard.
Key Points
Peaceful Valley Vineyard is the second painting by Thomas Kinkade Studios that portrays a breathtaking vineyard. The first Limited Edition work of art was the best-selling Wine Country Living, which was unveiled in 2018. Fifteen years earlier, Thomas Kinkade himself painted his single masterpiece capturing this pastoral life, titled Abundant Harvest.
Can you spot the quaint family of quail? A darling covey was also painted in
Wine Country Living.
Did you know that California has more chardonnay grapes than any other place in the world?
As they did with Wine Country Living, the Thomas Kinkade Studios artists chose not to portray a specific wine region in this painting. Their goal was to capture a vineyard's beauty and tranquility, including aspects commonly associated with this peaceful lifestyle in the artwork.
The world's largest hot air balloon festival is hosted in Albuquerque, New Mexico, each year. The festival lasts about nine days and features more than 750 hot air balloons. Napa, California, and other grape-growing regions offer extraordinary opportunities for hot air ballooning or "nature walks in the sky."
---
Estate Edition Sketch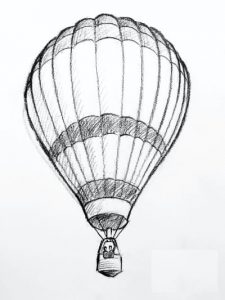 Here is the E/E sketch for Peaceful Valley Vineyard.
Edition Features
 Textured Brushstroke Process
Additional Highlighting
Small Edition Size
Authorized Signature In Silver
Unique Hand-Drawn Sketch On The Back Of The Canvas
Copyright: Art Brand Studios, LLC. © The Thomas Kinkade Estate, All rights reserved.
Title Peaceful Valley Vineyard
Painted April 2021
Published April 2021