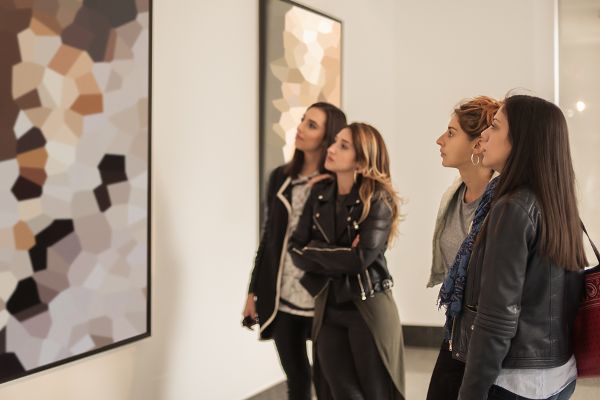 Collecting fine art can range from hobby to obsession. Whether you're just starting your art collection, have inherited paintings, or want to make the most of your acquisition and preservation techniques, you probably have a lot of questions.
At the galleries of Thomas Kinkade in California, we've put together answers to help you get the most enjoyment out of your painting purchases.
Expert Answers To Your Art Collector Questions
What's the best way to preserve artwork?
Can I safely clean a painting at home?
What types of art should I invest in?
How do I find out more about a painting in my collection?
Do I need art insurance?
Making Sure Your Paintings Last
Once you obtain a painting you love, you want to make sure it "hangs around" for as long as possible, right? More goes into maintaining fine art than you may think. You don't just display it and forget it if you want your piece to look as good as the day you acquire it for years to come.
1. Ask About Your Artwork
If you're lucky enough to be the one making the original purchase, ask about the materials and techniques that went into creating the piece. Longevity starts with thoughtful mediums built to last. Thomas Kinkade Limited Editions, for example, are created with only the finest canvas and inks.
2. Display Each Piece Properly
Should you frame your painting? Should your frame have a glass front? A Thomas Kinkade Art Consultant can help you decide on custom framing, display locations, and conservation-friendly lighting for each purchase. We can even show you how your Limited Edition will look before you buy with convenient in-home consultations.
3. Regular Art Maintenance
Lastly, you'll want to maintain each painting regularly. This might mean airing out and rotating stored pieces, lightly cleaning displayed artwork, or checking canvases for regular wear and tear and pest damage.
How To Safely Clean A Painting At Home
Not every art preservation effort has to be at the hands of a trained art conservator or restoration company. You'll want to have an Art Consultant at the gallery where you've made your purchase show you the proper technique for light cleaning.
Often, a gentle dusting with a soft cloth will do the trick. Avoid using water or chemicals to prevent damage to the canvas and ink or paint used in your piece.
The History & Value Of Your Art
At some point, you're probably going to ask yourself: How much is my art worth? It's essential to get all of the information you can upfront. Ask the artist, your broker, or your local gallery for more details.
Advantages Of Buying From Thomas Kinkade Galleries
At our California Thomas Kinkade galleries, we provide you with a certificate of valuation and can explain designations like Serigraph Artist Proof (SE/AP), Estate Edition (E/E), or Original (O/R).
Ask a knowledgeable Art Consultant about your painting.
You can also take advantage of special events, like Thomas Kinkade Highlighter Events, to ask a Master Highlighter about the story behind your piece.
Types Of Art — Investment Vs. Taste
Should you buy art strictly for profit, or just purchase pieces you like? Depending on the market, you can end up with a piece worth millions right away or an entire collection that builds value slowly over time. The types of paintings you decide to buy will depend on your goals, budget, and your taste.
A financial advisor and knowledgeable art broker can advise you best on the current market and trends. Thomas Kinkade galleries offer Limited Editions in a wide range of styles, meaning you can both invest and enjoy your artwork. Win-win.
Examples Of Our Limited Edition Paintings
Art Insurance Protects Your Investments
Even the best-kept collection can fall prey to natural disasters and transportation accidents. If your paintings are important to you, your portfolio, or an asset you plan on passing on eventually, you'll want to ensure it against floods, fires, and other disasters.
Where To Find Fine Art In California
Add to your private painting collection with Limited Editions from the Thomas Kinkade galleries in Carmel, Monterey, and Placerville, California. Stop by to shop our newest releases, rare and sold-out pieces, and to talk to an Art Consultant today. We look forward to answering your art collecting questions.