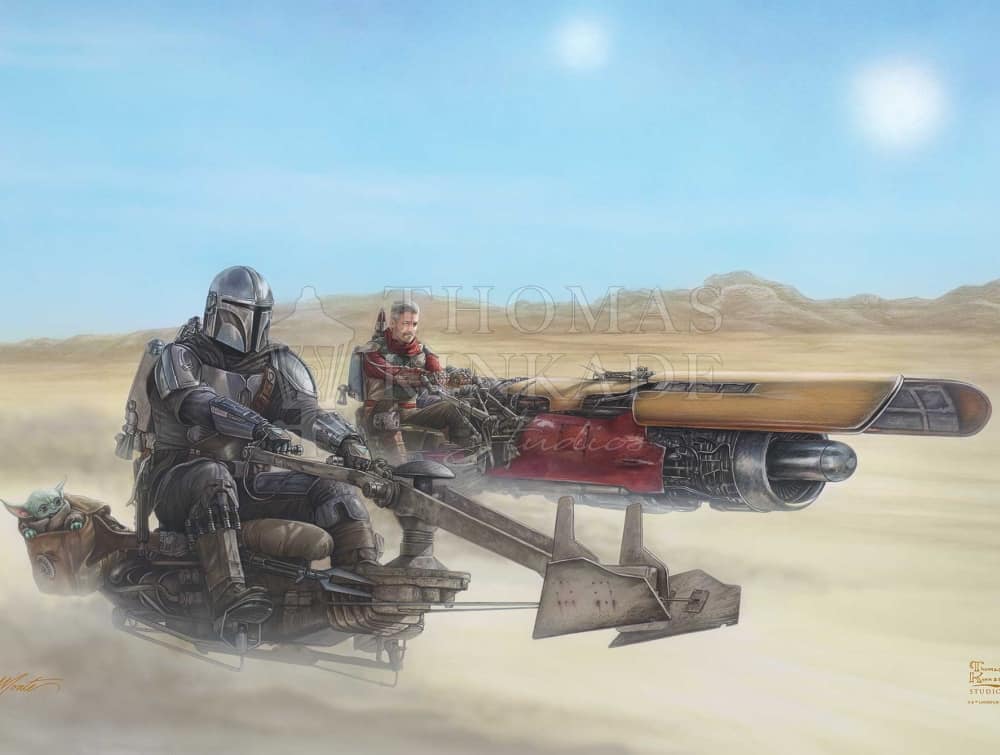 Art Notes
When the Mandalorian's search for others of his kind takes him to the remote desert outpost of Mos Pelgo™, he finds himself teaming up with a local Marshal to rid the nearby wastelands of a fearsome krayt dragon™ and has the opportunity to recover priceless Mandalorian armor once owned by the fabled Boba Fett™. This episode has all the classic earmarks of a true western, complete with a remote dusty town and a Marshal in need of help, nearly leading to a gunfight in a saloon. In this Thomas Kinkade Studios painting, our weary gunslingers head out on their trusty steeds across the landscape searching for their prey and some much-needed help that they will most certainly need to bring down the beast they will undoubtedly face!
Key Points
The Mandalorian™ travels to the forgotten settlement of Mos Pelgo™ on Tatooine™ in search of other Mandalorians to help him on his quest to bring Grogu™ back to his kind.
Mando encounters a man donning Boba Fett's™ armor at a small establishment in Mos Pelgo. Over snorts of spotchka™, the man, known as the Marshal, relays that his name is Cobb Vanth™ and that he bought the armor from Jawas™.
Mando's Outer Rim speeder bike is an overworked, but functional Mobquet™ Zephyr-J™ model.
An arrangement is made between the Mandalorian and the Marshal to travel to the krayt dragon's lair and stop it from terrorizing Mos Pelgo. The Marshal rides a modified Podracer engine equipped with a saddle and flight controls.
Estate Edition Sketch
Here is the E/E sketch for The Mandalorian™ – The Marshal.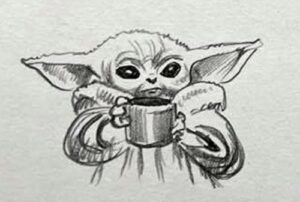 Edition Features
Textured Brushstroke Process
Additional Highlighting
Small Edition Size
Authorized Signature In Silver
Unique Hand-Drawn Sketch On The Back Of The Canvas
Copyright: Art Brand Studios, LLC. © & ™ Lucasfilm Ltd., All rights reserved.
Title The Mandalorian™ – The Marshal
Published November 2021
Collection The Mandalorian™ Collection