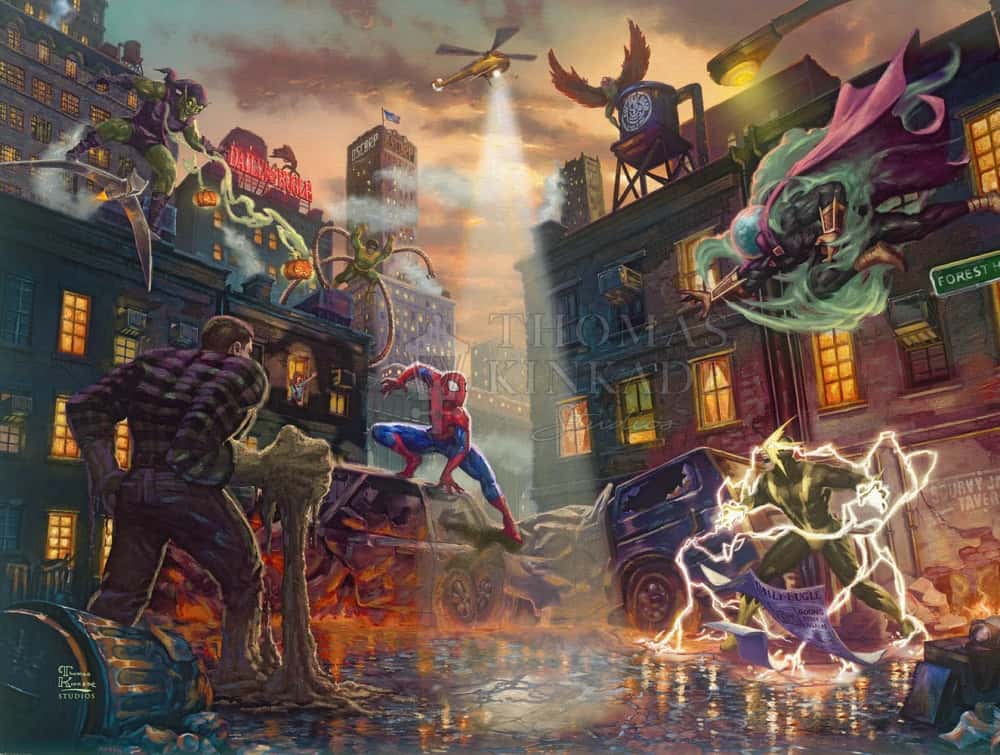 Your favorite comic book villains can be found wreaking havoc and making mischief on canvas at the Thomas Kinkade galleries in Monterey, Placerville, and Carmel, California. These unique paintings are perfect for the comic book fan who prefers the grittier side of DC and Marvel comics. Our galleries feature both superhero and supervillain artwork.
Bring Comic Book Villain Decor Home
For a great conversation starter, invite paintings featuring some of your favorite villains into your house. The bright colors of the paintings and action-packed stories bring interest and excitement into any room of your home.
The love of both comic book heroes and villains spans across all ages, from kids, teens, and college students to adults. With all the recent popularity of comic book-inspired movies, this fan base has only expanded.
Paintings of villains make the perfect birthday, graduation, or Christmas gift for fans. This unique gift of fine art is sure to delight comic book addicts of any age for generations.
A Building Fan Base For The "Bad Guys"
Without super villains, the stories that surround our favorite superheroes would feel quite dull. Many comic book enthusiasts have come to love the villain just as much, if not more, as the hero. Comic book movies have recently put the spotlight on villains and anti-heroes. As we learn their origin stories and follow along on their chaotic adventures – these famous fiends are becoming even more lovable.
Your Favorite Super Villains On Canvas
Thomas Kinkade Galleries has some of your very favorite supervillains on canvas. You can catch all the excitement of heroes vs. villains in paintings such as The Dark Knight Saves Gotham City, Justice League Showdown at Gotham City Pier, or Spider-Man vs. the Sinister Six.
If female villains are your thing, be sure to check out your favorite ladies colliding in action-packed The Women of DC. Or bring some of Harley Quinn's eccentric style into your home with The Joker and Harley Quinn, and Daddy's Little Monster. Don't forget Batman's nemesis and occasional love interest, Catwoman.
Super-Villain Art In California
Whether you still prefer heroes or have a soft spot for villains, you'll be able to find the perfect Marvel or DC comic book painting at the Thomas Kinkade Galleries in California. Come visit us in Monterey, Placerville, or Carmel, today. One of our friendly art consultants will be happy to help you find that perfect supervillain to decorate your space.