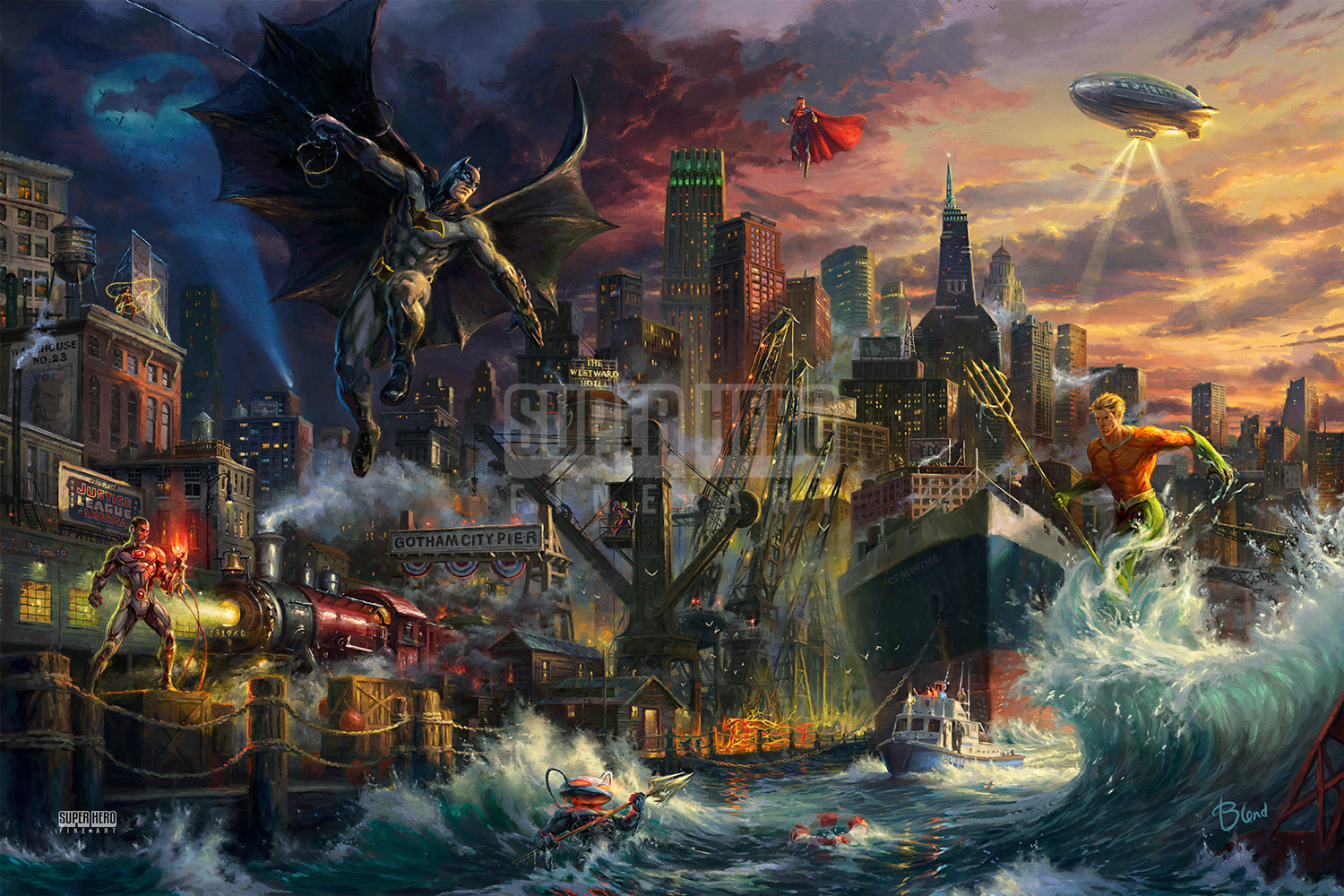 Art Notes
By Blend Cota
The Justice League has its work cut out for them as they battle to reclaim Gotham City Pier from The Joker and his allies. With daylight quickly being swallowed up by the encroaching darkness, the Dark Knight, Aquaman, Superman, Wonder Woman, Cyborg, and The Flash are in the midst of fighting off the Legion of Doom and rescuing the citizens of Gotham City – a confrontation that the world's most courageous Super Hero's will unquestionably win… or will they?
HIGHLIGHTS
Black Manta is surrounded and surely defeated, but with The Joker bursting onto the scene, it seems he may have just been a decoy to lure our heroes into a trap!
The Lexcorp Blimp is sneaking up on the battlefield; who knows what mayhem is about to be unleashed by the leader of the Legion of Doom?
Gotham City Pier and the harbor train have been set ablaze! Will The Flash be able to rescue the train conductor in time?
Wonder Woman has arrived to provide some backup after spotting the Bat-Signal; just in case the Legion of Doom has a surprise or two up their sleeve.
Notice the name of the cargo ship in the background? The CS Martha is a tribute to Martha Wayne, Bruce Wayne's mother.
Copyright: JUSTICE LEAGUE and all related characters and elements © & ™ DC Comics. (s18) © Art Brand Studios, LLC, All Rights Reserved.
Title Justice League Showdown At Gotham City Pier
Painted 2018
Published 2018
Collection Thomas Kinkade