Find paintings for wine lovers from a vast assortment of art at the California galleries of Thomas Kinkade. Are you into reds, whites, rosé, or something sparkling?
Whether you visit us in Placerville, Monterey, or stop by our Carmel art gallery, you will find fine canvas art ready to display and gift wherever you love to relax and sip.
Paintings Of California For The Wine Connoisseur

Sauvignon blanc, cabernet sauvignon, pinot noir, chardonnay, zinfandel, merlot — nothing says fine wine like the culture and landscape of Napa Valley. You can relive your last wine tour with vineyard paintings of California, featuring the gorgeous grape-growing regions along the West Coast.
Peaceful Valley Vineyard, Wine Country Living, and Abundant Harvest feature barrels, vines, and plenty of sunshine to complement the rarest of Bordeaux.
Café Canvases — A View With Your Vintage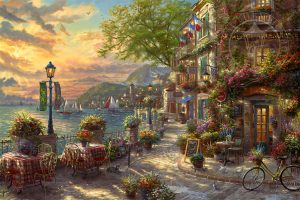 European cafés are a perfect mix of simplicity and luxury. It's hard to beat those one-of-a-kind views as you sip a port, sherry, Madeira, or Marsala. Unfortunately, trips to Italy, France, and the Mediterranean often don't happen quite as frequently as we'd like.
Our collection of European café paintings can elevate any wine tasting room, whether it's in a small apartment or a fine dining restaurant.
Wall Art Featuring Lush, Aged, Tranquil Beauty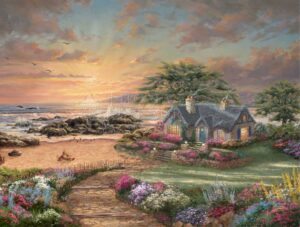 Wine and art go hand in hand. Is it the skill that goes into each masterpiece, the shared richness, and history, or maybe the way they both can alter the mood? Whatever the connection, we invite you to consider gifting artwork along with that bottle for your next housewarming party, hostess gift, a show of appreciation, or congratulations.
Tranquility reigns in Morning Glory Cottage, The Cottage, and Lakeside Manor. Lilac Bouquet and The Blessings of Spring burst with lush florals and color. Or choose the richness of history with cobblestone and brick-laden scenes like The Open Gate, Sussex, Lamplight Inn, or Entrance to the Manor House.
Shop Art For Wine Lovers In California
What is a gala or gallery opening without a few glasses of wine? Explore more of the world where vino and artworks collide with paintings for wine lovers at our California fine art galleries. Visit us today at Thomas Kinkade Monterey, Placerville, and Carmel to shop Limited Edition paintings and make an impression no wine lover is soon to forget.