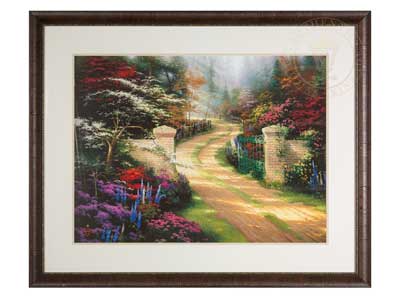 Visit one of our Thomas Kinkade Signature galleries in the Monterey Bay area and find beautifully framed prints today. We carry holiday and special occasion gifts for all the wonderful people in your life. Our Art Consultants will help you find the perfect piece of framed artwork for yourself or the newlywed couple, boss, neighbor, or any other special person on your list.
Kinkade's Inspirational Framed Prints
Each Kinkade framed print is of the highest quality. Each is created and framed with attention to detail in order to ensure that the beauty of each piece is captured perfectly. These paintings are beautiful sources of peace and inspiration. Choose from our many categories:
Disney Framed Prints
Christian Framed Prints
Cottages
Nature Art
Lighthouses
Seascapes
Movie Framed Prints
Sports & Stadiums
& Much More
Framed wall art can add class and character to any room. Whether it's a framed sports art piece to compliment the game room, the beginnings of a joyous Disney art collection, or a lovely painting of nature to liven up the office, paintings for gifts inspire the receiver. Let us help you find a gift that can be enjoyed day after day, year after year.
The Thomas Kinkade Gallery Experience
Our friendly Art Consultants not only help you in finding the ideal gift for the art lovers on your gift list but also make sure your framing choice compliments the piece and space in which it will be displayed. Your satisfaction is our top priority.
You are sure to find your gallery experience with us beyond any expectation. Sometimes we are hoping to please a picky friend or buy for the person who already seems to have everything. It can be so helpful to have that extra set of eyes and experienced opinion.
Framed Kinkade Art
Stop by one of our Monterey Bay galleries and experience Thomas Kinkade's exquisite selection of frameable art. Our Art Consultants are happy to help you find the finest of gifts. Call to make an appointment or come on in today.
Available In These Titles