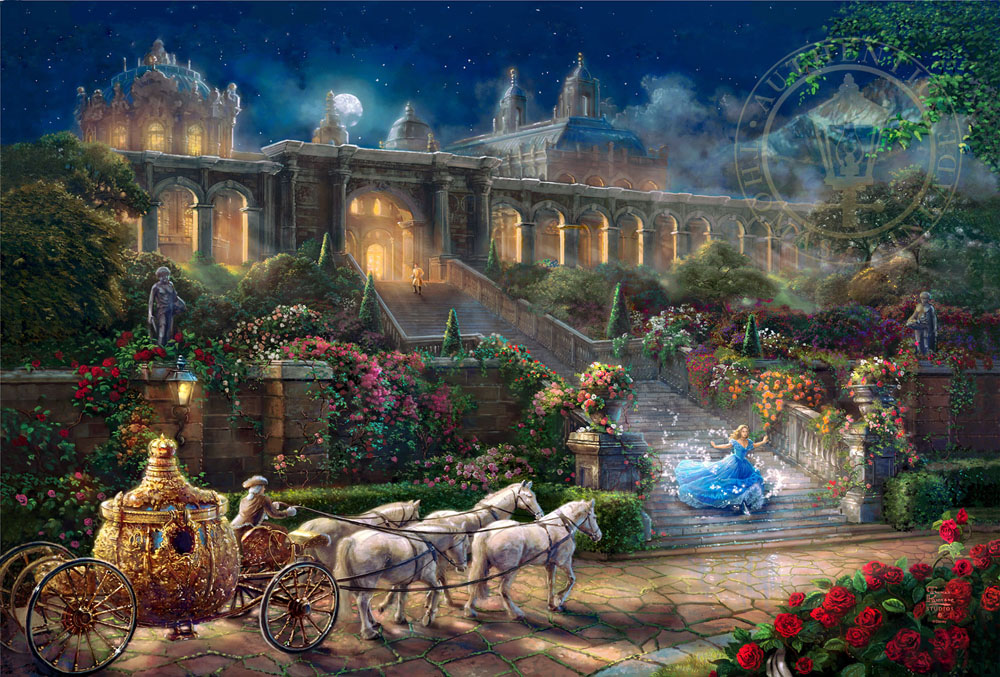 Relive your childhood favorites or introduce them to the next generation with fairy tale paintings and art from Thomas Kinkade in Carmel, Monterey, and Placerville. Our California art galleries feature many of the characters and stories you love, captured masterfully through fine art. Our paintings on canvas bring cheer to your home decor, and they make delightful, lasting gifts.
Fairy Tale Art You'll Love
The artists at Thomas Kinkade have captured the charm and magic of characters like Rapunzel, Snow White, and many more fairy tale characters, as reimagined by the animators at Disney. Disney fairy tales become ingrained upon the imaginations of so many of us. Explore our vast selection of storybook and movie wall art and find one that speaks to you.
Bringing Classic Fairy Tales To Life
Our paintings take centuries-old stories and breathe movement and energy into them through masterful brushstrokes and a vivid play of light. Our Limited Edition canvas art is keepsake-quality and a favorite with collectors of all things Disney.
"Once upon a time" doesn't have to stay between the pages of a book, or on the screen. Cinderella, Snow White, Beauty and the Beast, and Pinocchio can be enjoyed again and again through works of art from Thomas Kinkade. You may not be able to choose just one. With scenes like these, why would you?
Decorate With A Little 'Happily Ever After'
Fairy tale art is the perfect decor for children's spaces and makes an excellent gift for any child at heart. Stories comfort, encourage, and teach us; fairy tales are no exception. During a challenging time or illness, a glimpse of Tinkerbell (or one of the Seven Dwarfs) might be all that's needed to bring a smile to a child's face.
Children's Hospital Art
Children's Library Decor
Elementary School Classroom Decor
Child Therapy Office Decorations
Preschool & Daycare Decor
Pediatric Medical Office Art
Sweet Gifts That Last A Lifetime
Instead of massed produced posters or prints from a big box store, fine art on canvas is an investment that will last a lifetime. The gift of a painting from our gallery shows your loved one just how much they mean to you. These delightful keepsakes can be cherished and passed on from a child's bedroom to a grandchild's nursery.
Find Fairy Tale Art In California
We can't wait to help you choose the perfect artwork from Thomas Kinkade in Carmel, Monterey, and Placerville. Foster a love of reading or make a child's bedroom extra special with the magic of our fairy tale paintings. Or, give a gift to a teacher or friend who always seems to bring a little magic wherever they go. Stop by today to see this fantastic artwork up close and take home a piece today.