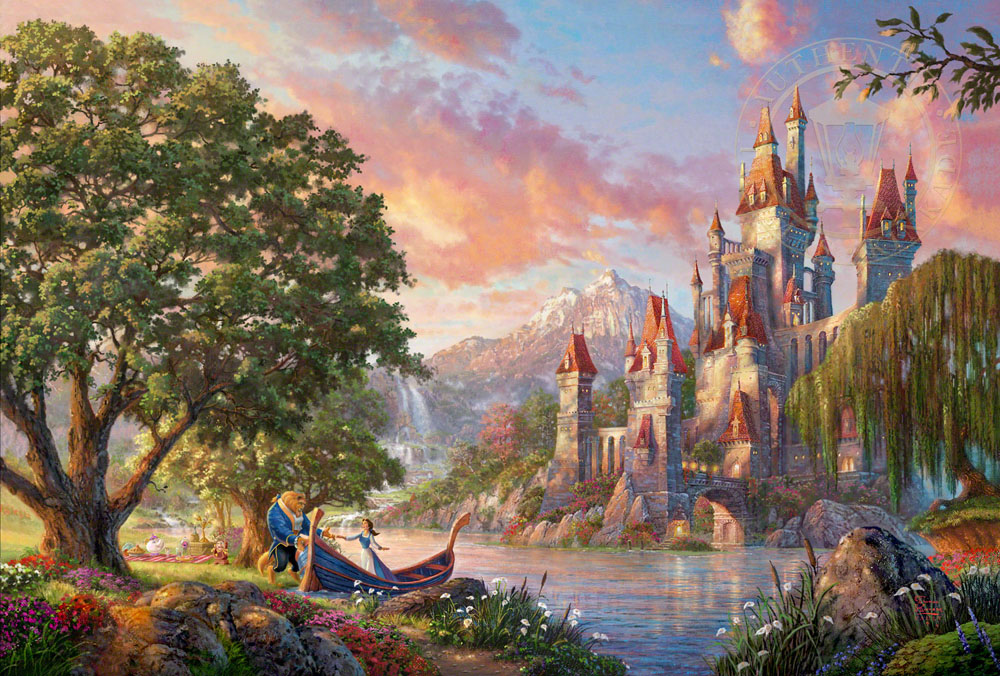 Art Notes
There is nothing more delightful than the surprises of love such as joyfully discovering a hidden love note, spontaneously being carried away on a romantic outing, or unexpectedly receiving flowers for no other reason than to express love.
In Beauty and the Beast II, Thomas Kinkade envisioned a breath taking romantic surprise. Beast has secretly planned a special afternoon for the one he is falling in love with, Belle. Lumiere, Cogsworth, Mrs. Potts and Chip, have all gone ahead to arrange a romantic picnic in a beautiful lakeside meadow with a majestic view of the castle and surrounding mountains. As Belle and the Beast step ashore, the possibilities of love and romance are in the air. Will Belle fall for the Beast? Will Beast open his heart and believe he has found someone who will love him? Will the two of them be surprised by love?
Recently discovered in the Thomas Kinkade Vault, this is the final Disney painting on which Thom worked. Thom's love of this classic Disney film and his vision for moments that might have been between the Beast and Belle, are painted with a captivating wonder that remind us of when we have been surprised by love.
Copyright: Disney Elements © Disney.
Title Beauty and the Beast II
Painted 2014
Published 2014
Style Narrative Panorama
Classification Thomas Kinkade Vault