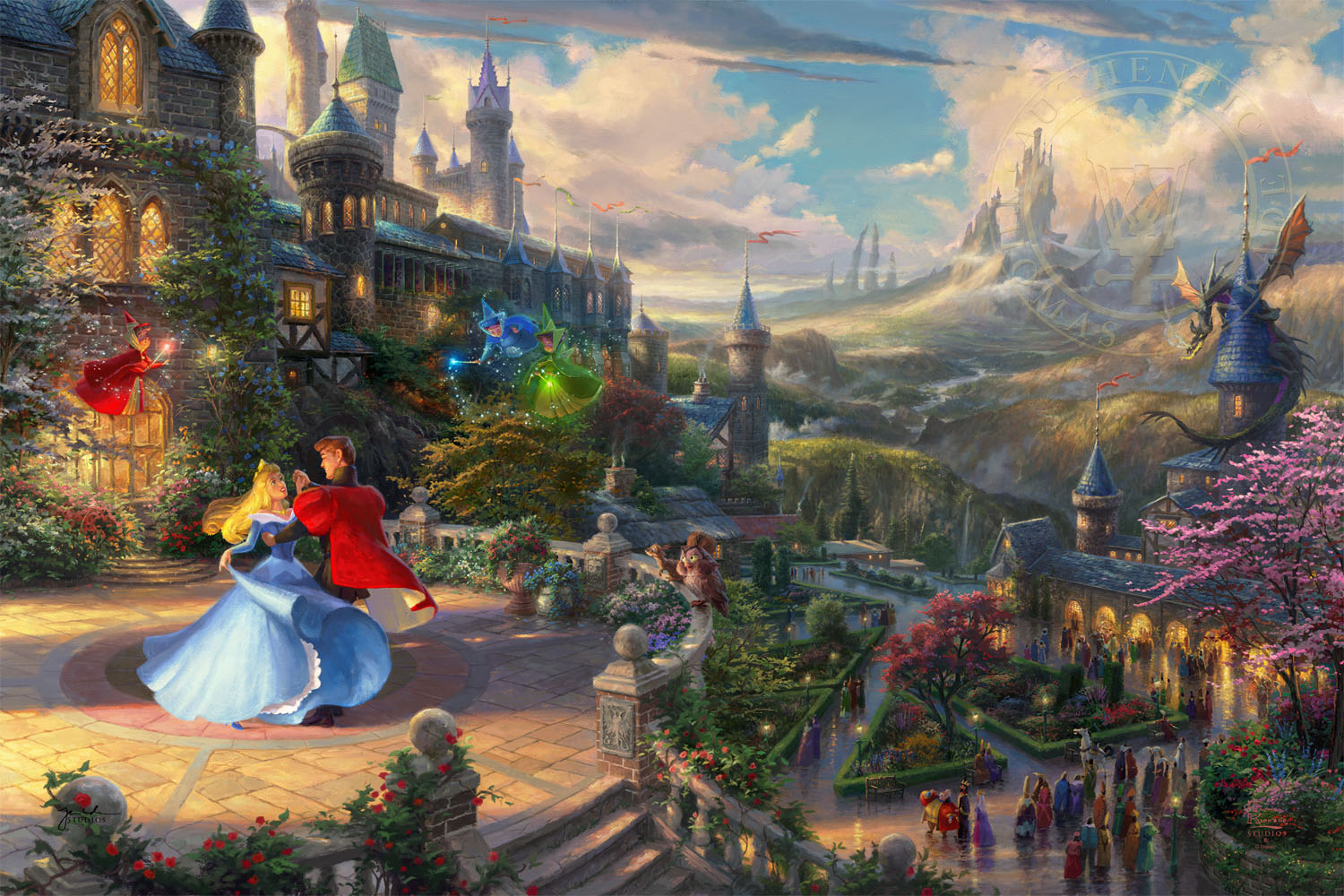 Art Notes
Sleeping Beauty, released in 1959, was Disney's sixteenth animated feature and the last animated film produced by Walt Disney to be based on a fairy tale. It was additionally the last animated feature from Disney to be inked by hand.
It was that dedication to Walt's artistic storytelling that inspired Thomas Kinkade Studios to capture the magic of Sleeping Beauty's tale of love triumphing over evil. We are proud to present Sleeping Beauty Dancing in the Enchanted Light, the fourth piece in the Dancing in the Light collection.
As we jump into the scene, Prince Phillip has already awakened Princess Aurora with true love's kiss. We see the pair in the courtyard under an enchanted light streaming down from the good fairies. It is just the two of them, with their hearts in the clouds as they dance "happily ever after."
Key Points
The good fairies – Flora, dressed in red; Fauna, in green; and Merryweather, in blue – are all here to celebrate true love's kiss!
Hidden within the forest is the woodcutter's cottage where Briar Rose was secreted away and raised by the three good fairies.
In the far distance is Maleficent's eerie castle within the Forbidden Mountain.
Lurking near the edge of the castle is Maleficent – in the ever-dangerous dragon form!
Perched upon the balcony are Sleeping Beauty's woodland friends who are here to witness the young couple's love.
King Hubert, King Stefan, and Queen Leah are seen gazing upwards at their children as they are filled with amazement that the curse has finally been broken.
Copyright: © Disney © 2018 Thomas Kinkade Studios. All rights reserved.
Title Sleeping Beauty Dancing In The Enchanted Light
Painted 2018
Published 2018
Collection Dancing in the Light