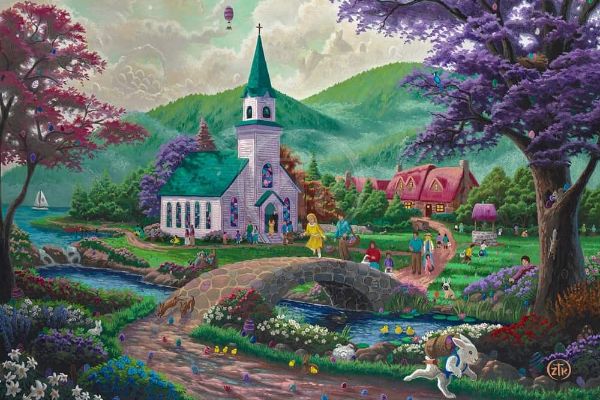 The Easter Bunny and his basket of colorful eggs are nostalgic reminders of many of our childhood Easter experiences. While some Easter decor may include the spiritual aspects of the holiday, bunny paintings will always have a place in cheerful spring decorations.
Create your own display with paintings from our Thomas Kinkade California galleries.
1. Easter Sunday
Easter Sunday, including the church and all the trappings of a sacred service, speaks to the holiday's religious roots. On the other hand, little lop-eared critters, including the Easter Bunny himself and all manner of eggs-ceptional frivolity, invite us to enjoy the more enchanting aspects of this holiday.
2. Disney's Alice In Wonderland
The White Rabbit in Alice's Adventures in Wonderland has been a beloved character for 150 years. And while this bunny isn't exactly an Easter rabbit, this sweet Alice painting by Thomas Kinkade Studios wouldn't look at all out of place in your seasonal art gallery.
3. Winnie The Pooh – A Heroes' Parade
A Heroes' Parade features Rabbit marching over a log with his pals in a colorful celebration of friendship.  Easter decorating ideas often include elements that celebrate the joyful aspects of the season, like this cheerful painting.
4. Mountain Mechanics
While the rabbit influence is subtle in this piece, the nod to spring isn't. In Mountain Mechanics, we find some visual mainstays of country art—the old red truck, an ancient barn, and plenty of little critters, including those of the long-eared furry kind that makes an appearance in Easter decor the world over.
If you're also looking for rabbit paintings that include other themes, it's hard to go wrong with this one!
5. Streams Of Living Water
The overarching message of Easter speaks of hope and forgiveness, two concepts that are difficult to convey in art. However, in this Thomas Kinkade original, Streams Of Living Water, the forest chapel, the flowing water, and even the woodland animals display this theme.
While this isn't a painting filled with Easter rabbits, it does capture the spirit behind the season and would make a lovely addition to your holiday decor.
Shop Easter Bunny Paintings For Spring
Rabbit paintings with brightly colored eggs allow you to step into the innocence of childhood for Easter. If you're looking for sweet paintings to add to your Easter decorating ideas, these five pieces are a great place to start. Explore the nostalgic possibilities at one of our three Thomas Kinkade galleries in Carmel, Monterey, and Placerville, or browse our site today.