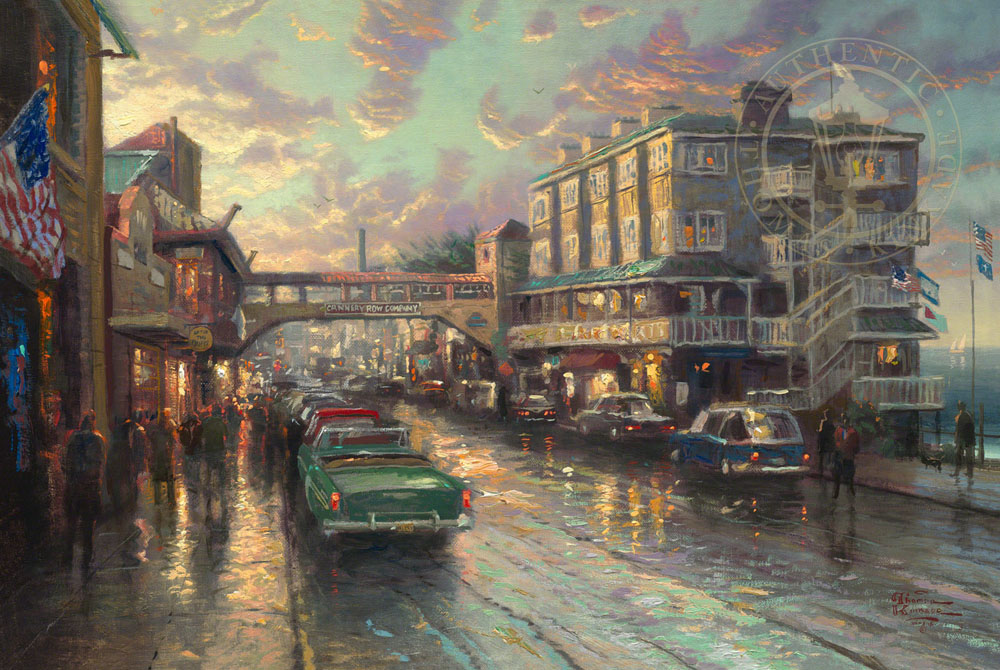 Experience the artistry and drama of the chiaroscuro technique with paintings from Thomas Kinkade in Carmel, Monterey, and Placerville. See how this mastery of light and shadow can bring your wall art to a new level. Our collection of Chiaroscuro paintings include landmarks, cityscapes, and even nearby California locales.
What Is Chiaroscuro Art?
Chiaroscuro art uses the artist's knowledge and command of the way light hits an object to bring that object to life by giving it dimension or depth. What better modern technique of Chiaroscuro lighting could there be than that of the Painter of Light himself? Thomas Kinkade paintings are well-known and sought-after for the life, breadth, and fine detail accomplished by this finite attention to lighting.
A Selection Of Kinkade Chiaroscuro Paintings
Feel like you could reach out and caress a smooth boulder or walk right into a firework-lit celebration with chiaroscuro paintings from our Monterey Bay area art galleries. It's easy to lose yourself when your wall art seems so lifelike.
Make Your Home Decor Pop
Lady Liberty appears to leap out from a sunset background in Dedicated To Liberty. You almost want to lean over and examine the lifelike sundial in The Hour of Prayer. Can you hear the water tumbling down the rocks studding a stream in Away From It All?
Who needs 3D, when you can enhance your space with the Chiaroscuro painting effects of our Limited Edition fine art.
Dappled Sunsets & Streams
Glowing sunlight scatters through the boughs of colorful tree branches to warm patches of cottage lawns and the brick of buildings and bridges alike. You can't help feeling warm around these picturesque scenes. Chiaroscuro paintings take canvas artworks and transform them into living works of art.
The Grungy Nightlife Of The Big City
When you combine Chiaroscuro lighting with crowded cities and busy streets, you get a vivid, graphic effect. The suggestion of layer upon layer of depth draws you in and makes you want to explore every corner of New York City, San Francisco, and our own Monterey. Buzzing neon lights and wheels whooshing through rain-washed streets await as the sun goes down and the street lights come on in these shadowy cityscapes.
The Light & Depth Of Thomas Kinkade, In California
Breathe life into your home decor with the eye-catching effects of light and shadow in our canvas chiaroscuro paintings. We invite you to stop by your closest California Thomas Kinkade gallery in Carmel, Monterey, or Placerville. Our art consultants look forward to showing you how to best frame and light your fine art selection to get the most out of this breathtaking technique today.