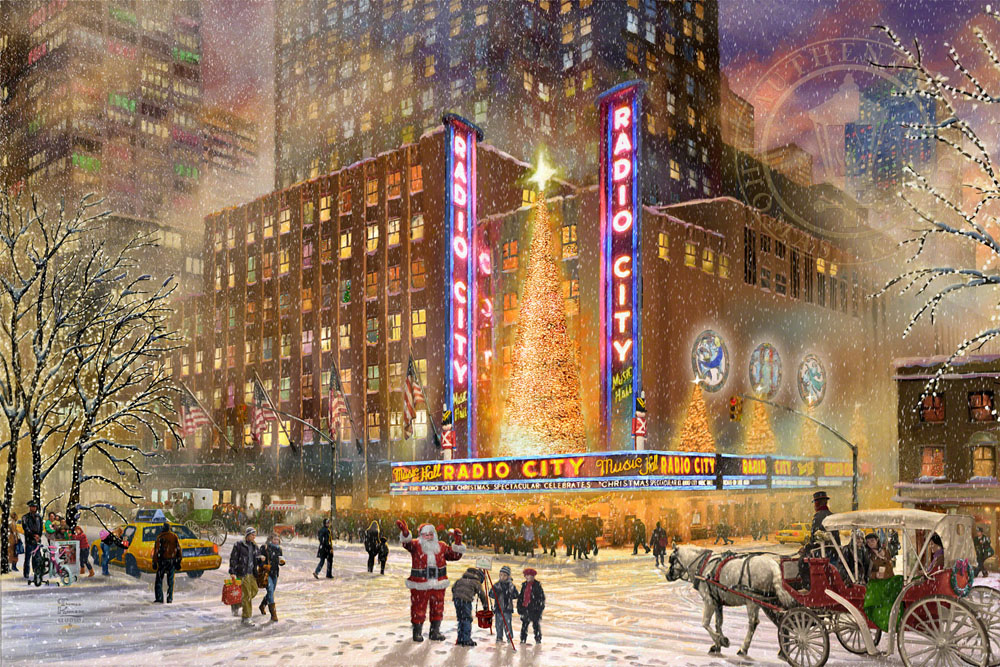 Art Notes
The holidays were the favorite time of year for Thomas Kinkade and his family. They loved being together and celebrating this magical season of joy and giving. What could be better than sharing the joys of Christmas with friends and family, and looking for ways to touch others with the warm spirit of the holidays? Thomas Kinkade viewed his artwork as a way of giving back to others and sharing a message of hope and joy. And it's those same themes that are captured in one of New York's most famous holiday traditions – the Radio City Christmas Spectacular.
In this nostalgic scene, families arrive in anticipation dressed in their best holiday attire under the bright lights of Radio City Music Hall, also known as the "Showplace of the Nation", which first opened in 1932. The streets are filled with the smell of roasted chestnuts, the bustle of holiday preparations, the spirit of giving and the joy of Christmas. As families enter the Music Hall underneath the majestic marquee, they encounter an iconic American tradition where every moment is magic; a place where Christmas shines; where wooden soldiers march and Santa flies; where the legendary Rockettes perform their "eye-high" kicks; where families step inside a wondrous journey that celebrates the first Christmas of Christ's birth.
All of this is captured and celebrated in the Thomas Kinkade Studio's painting of Radio City Music Hall. Feel the excitement. Be touched by the spirit. Take in these cherished moments and create new memories. Join us in celebrating one of America's great Christmas traditions, the Radio City Christmas Spectacular, by sharing joy and giving to others in this special holiday season.
Copyright: "Radio City", "Radio City Music Hall" and the Radio City Music Hall Marquee are registered trademarks of Radio City
Trademarks, LLC.
Title Radio City Music Hall
Painted 2013
Published 2013
Style Chiaroscuro
Classification Thomas Kinkade Studios
Subject Location New York City, New York, USA