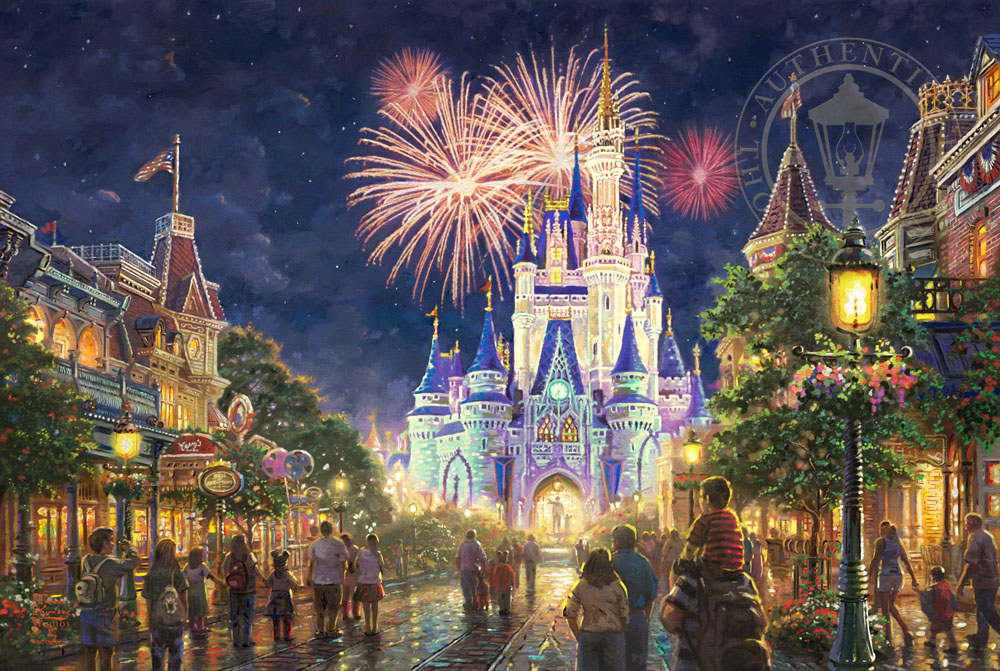 Art Notes
For the Kinkade family, the yearly pilgrimage to the Walt Disney World® Resort® was always an enchanting inspiration. Thomas Kinkade once said, "Two of the dream-memories we take from childhood on our life's journey are the wonder and excitement of the Walt Disney World® Resort® and the soaring majesty of castles."
It is this wonder and excitement that greets us when we first step through the tunnel under the Walt Disney World® Resort® Railroad and travel back in time on Main Street, U.S.A. ® Inspired by Walt Disney's hometown, Walt wanted this land to relive a simpler time filled with happy carefree memories shared with family and friends.
As you journey along the Victorian-themed Main Street in a horse drawn trolley, fire engine, jitney, horseless carriage, or on foot, you'll pass such hometown staples as the Main Street Bakery and Main Street Cinema from a time and place long since passed.
Main Street leads us into a Magical Kingdom and to the soaring threshold of the majestic Cinderella's castle. Lit at night by the Wishes Nighttime Fireworks Spectacular, it reminds us of the wishes we all share – for the magic of simpler times, happy endings, the laughter of children and the love of family and friends.
Thomas Kinkade Studios is proud to present Main Street, U.S.A.,® Walt Disney World® Resort®. It is our hope that you will join us in celebrating the magic.
Copyright: © Disney
Title Main Street, U.S.A.® Walt Disney World® Resort
Painted 2014
Published 2014
Style Chiaroscuro
Classification Thomas Kinkade Studios
Subject Location Orlando, Florida, USA