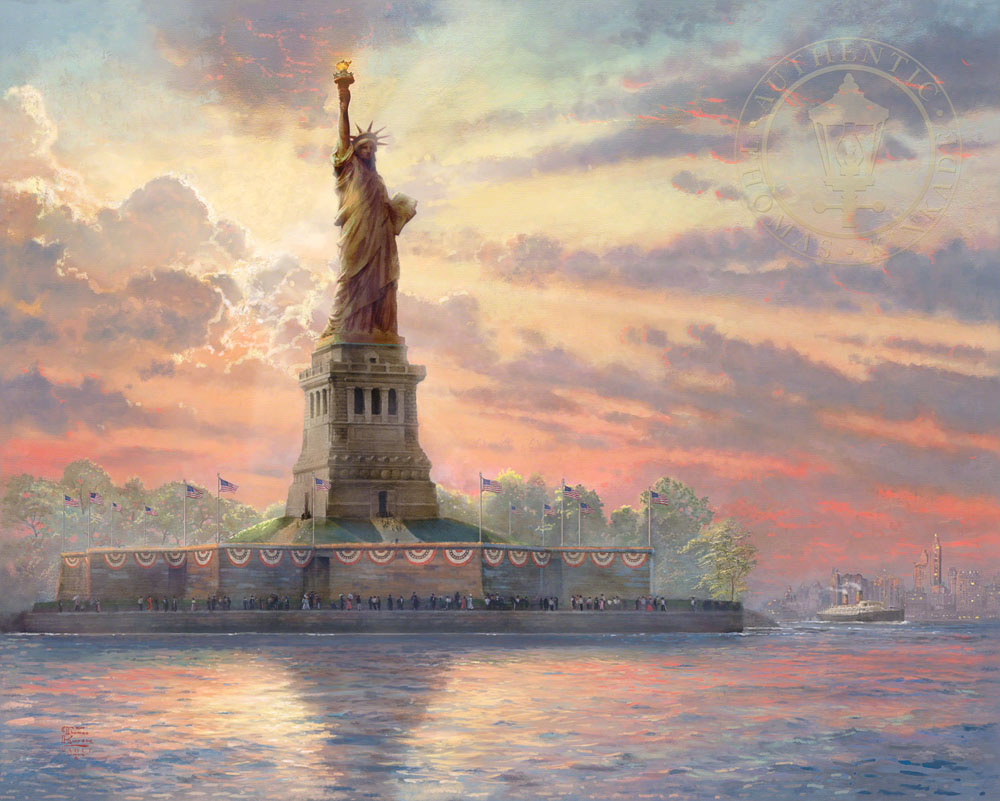 Art Notes
Thomas Kinkade loved America. From its many beauties to its great freedoms, Thom regularly sought to capture the spirit and heart of our great country on canvas. Nowhere is that seen more clearly than in this painting from the Thomas Kinkade Vault, celebrating the symbol of freedom and democracy, the Statue of Liberty.
Given to America in 1886 as a gift of friendship from the people of France, the statue greeted arriving immigrants with hopes of a new life in this land of opportunity. Sculpted in copper, the statue's original color has oxidized over decades into the green tones that we know today.
In Dedicated to Liberty, Thomas Kinkade captured those early years of the statue, and the power and majesty behind this great symbol of freedom. Light breaks behind the statue illuminating the freedom that awaits all who come. A ship in the harbor carries families and the dreams of generations. A burgeoning city filled with opportunities awaits.
The Statue of Liberty's official title is, "Liberty Enlightening the World." Enlightening the world with the light of freedom… from an artist whose simple message was… "Share The Light."
Title Dedicated to Liberty
Painted 2014
Published 2014
Style Chiaroscuro
Classification Thomas Kinkade Vault
Subject Location New York City, New York, USA
Collection Liberty and Freedom