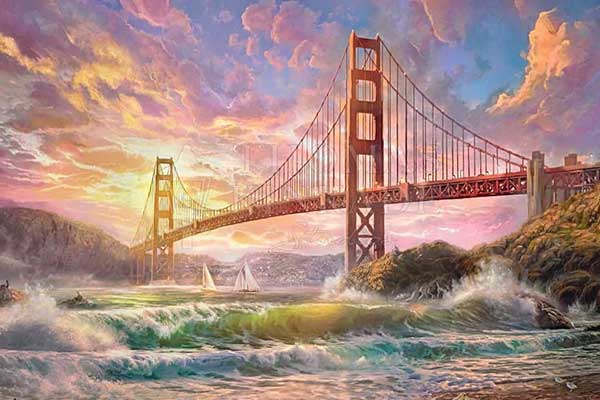 California sunsets are just as lovely as its weather and distinctive as its culture.
Whether you enjoy the laid-back seaside life or the unique city views, the fine art galleries of Thomas Kinkade have California sunset paintings to suit you.
San Francisco At Sunset
In these paintings, dwindling rays of sunlight shine through the Golden Gate Bridge, serve as a backdrop to the early evening bustle and reflect off of rolling ocean waves or rain-slick streets. Mists rise, and clouds glow in warm palettes of pinks, oranges, and yellows.
If your idea of heaven looks like San Francisco at sundown, we invite you to explore these five great paintings.
Twilight In Monterey & Carmel-By-The-Sea
With Thomas Kinkade galleries in Placerville, Monterey, and Carmel, we know and love when life and art collide in California. Steinbeck's historic seaside village of Cannery Row, Kinkade's favorite shoreline biking trails, and Carmel (a location so gorgeous that Thom painted it three times) are all right here.
Now you can own sunset paintings of these gorgeous locales and enjoy them any time of day.
Paintings Of Central Cali Just Before Dusk
Watching the sun go down is a perk of boating and those long walks by the beach in California. Whether Morro Rock, Capitola's tidal pools, or the iconic Santa Monica Ferris Wheel capture your attention, we carry paintings of Central Cali that feature your favorite destinations just as the weather cools and the nightlife gets going.
Fine art elevates any living room, office, or public space. Why not choose paintings that remind you of your last weekend's staycation or summertime holiday?
A Fine Art Gallery Full Of California Sunsets
Upgrade your wall art with stunning paintings of California sunsets today. You can find local Thomas Kinkade fine art galleries in Placerville, Monterey, and Carmel. Please stop by and see us at the location closest to you. Our knowledgeable, friendly art consultants can help you find Limited Edition works in the theme, color palette, or destination you desire and even help you with lighting and display advice.
We look forward to seeing you in our California galleries.