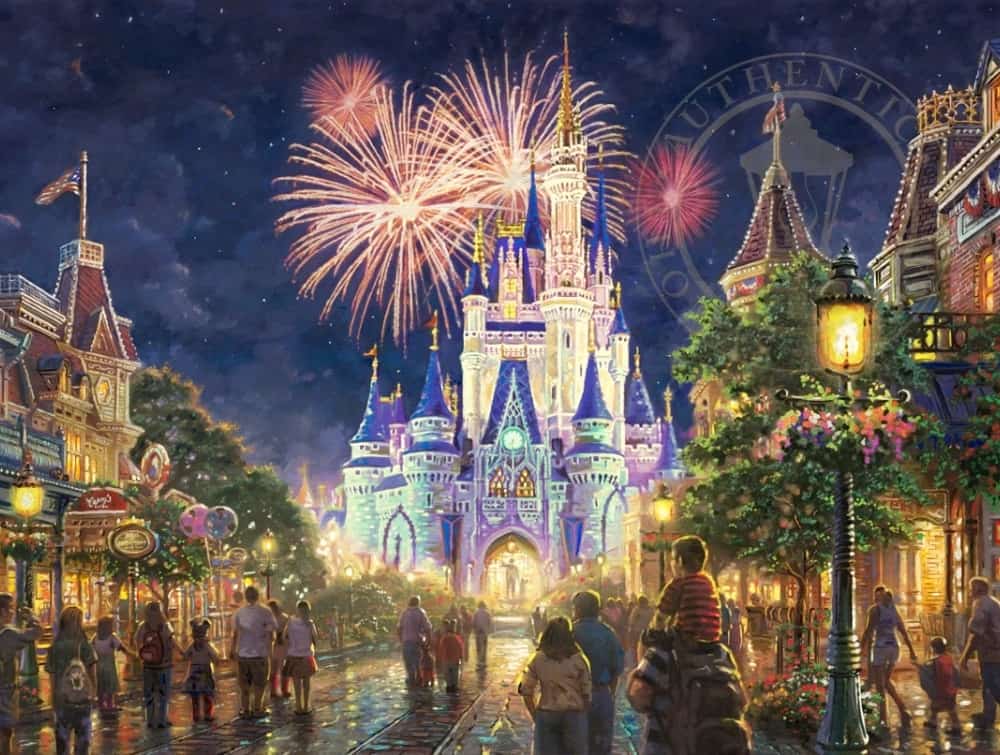 Take your gift-giving to the next level with wall art for Disney lovers from the Thomas Kinkade galleries of California. We offer a stunning variety of Disney paintings, including romantic scenes featuring Disney princesses, Mickey and Minnie paintings, and art celebrating Disneyland.
Whether you are looking for room decor for the young or wall art for the young at heart, you're sure to find a magical gift.
Give A Bit Of Disney Romance
Disney movies are known for their enchanting love stories. From Lady and the Tramp to Beauty and the Beast to the most classic Disney love story of all, Mickey and Minnie, our paintings masterfully capture these iconic love stories on canvas.
In Disney Mickey and Minnie – Sweetheart Bridge, this famous couple shares a special moment on a cobblestone bridge, surrounded by vibrant blooms of all varieties. You can almost feel the magic in the air as sunlight streams through the trees, putting Mickey and Minnie in the spotlight.
In Tangled, we join Rapunzel and Flynn on a romantic boat ride as they celebrate Rapunzel's 18th birthday. Thousands of floating lanterns shine their light down on this happy couple.
Other Disney paintings featuring love stories include:
Paintings Of The Happiest Place On Earth
There's nothing quite like the magic of visiting the magic kingdom. From the moment you set foot onto Main Street USA, you are transported away from the stress and worry of everyday life and enter into a world of childlike wonder and amazement.
Our canvas art celebrating the Disney parks feature this happy place in vivid color and meticulous detail.
The Perfect Gift For Him, Her, Or Them
Suprise the Disney-lovers in your life. A Cinderella painting would make a lovely birthday gift for your little princess. Mickey & Minnie in Paris would make a lovely wedding or anniversary gift. Bring Bambi's First Year to your next baby shower. Our fascinating collection will make it hard to choose just one.
Disney Wall Art In California
We can't wait for you to experience the magic in our Disney wall art. We can help you select the right painting for your recipient and the perfect frame to match. Visit one of our Thomas Kinkade galleries in California today.