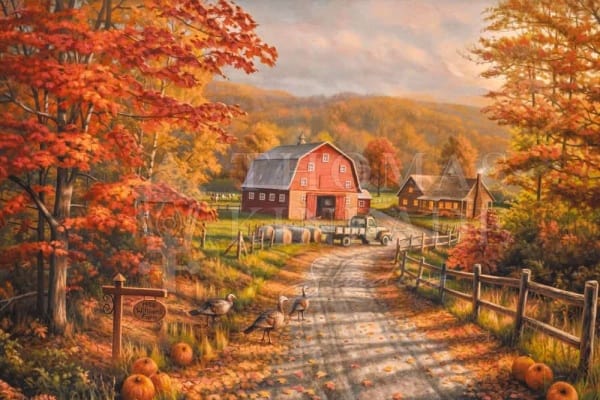 The season of visiting and feasting is upon us. Make sure you're ready for every invitation with Thanksgiving gifts for the hardworking hosts and hostesses.
Home decor is always a big winner, so we've put together a list of beautiful hostess gift ideas from our selection of Limited Edition home decor.
Thanksgiving Wall Art For Every Hostess
Gifts For Your Rustic Farmhouse Chic
No one has mastered grandma's famous pumpkin pie quite like this hostess. Her get-togethers are full of fun and tradition. Show your appreciation with the comfort and color that is sure to bring a smile to her face. Late Afternoon on the Farm and Autumn at Apple Hill both capture this warmth and memory-making mood.
Victorian-Themed Paintings For Miss Perfection
If your Thanksgiving hostess has a place for everything and everything seems to be set perfectly in place, then our Victorian-themed autumn paintings may be more her style. Biltmore® in the Fall and Victorian Autumn features pristine mansions and lovely estates set in serene, picture-perfect settings.
Wall Art For The Nature-Loving Hostess
A Walk Down Autumn Lane and Evening at Autumn Lake will take your nature-loving host or hostess back to their last trek through the woods or cabin escape. Give them a peaceful way to wind down after all the entertaining. Misty mountains, sun-dappled trails, and a fall rainbow of reds, yellows, and oranges await.
A Disney Fan's Favorite Fall Decor
Are your hosting couple both Disney fans? Make sure to check out Mickey and Minnie – Sweetheart Central Park. This fine art painting stars the iconic mouse couple sharing hugs, smiles, and a gorgeous view. You'll wish you could snatch Mickey's bouquet right off the canvas. What a fun way to surprise a family on Thanksgiving Day!
Shop Thanksgiving Hostess Gifts In California
You don't have to tackle your autumn thank-you's alone this year. Place your orders or stop in and stock up on Thanksgiving hostess gifts today. The Thomas Kinkade galleries of California are conveniently located in Monterey, Placerville, and Carmel. Our friendly Art Consultants can help you find conversation pieces for your own tablescapes or just the right painting for friends, family, teachers, and everyone else.