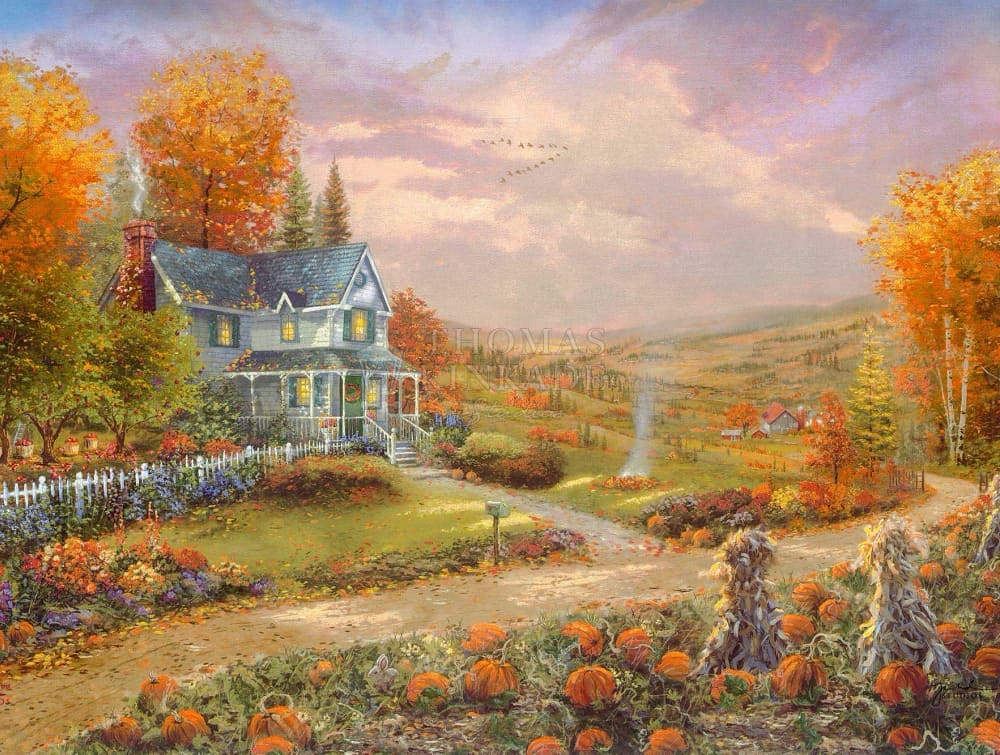 Art Notes
Step foot into a crisp autumn evening at Apple Hill. The light
fall breeze, coupled with the bountiful harvest of pumpkins and colorful mums lining the pathway inspire feelings of serenity and comfort, only found on a tranquil Autumn evening. As the sun sets, brilliant colors of gold, scarlet, lavender, and blue paint the sky and reflect upon the transforming landscape and foliage. Autumn memories of picking apples from the trees and walking through the pumpkin patch looking for just the right pumpkin are captured in Autumn at Apple Hill.
In the distance, you can see the quaint village where you'll find the bounty of Autumn: candied apples, homemade applesauce, apple butter, apple fritters and turnovers, and fresh pumpkin and apple pie.
Key Points
Autumn at Apple Hill is only the third Kinkade painting to have pumpkins painted into the scene.
The last painting to honor "Apple Hill" was done in 1992 by Thomas Kinkade.
The name "Apple Hill" was created by Bob Tuck in 1964 to unite all the local apple growers.
People travel great lengths to visit Apple Hill and "step back in time" to view the history and have some old-fashioned fun.
Can you spot the bunny in the pumpkin patch?
Copyright: Art Brand Studios, LLC. © Thomas Kinkade Studios, All rights reserved.
Title Autumn at Apple Hill
Published July 2020