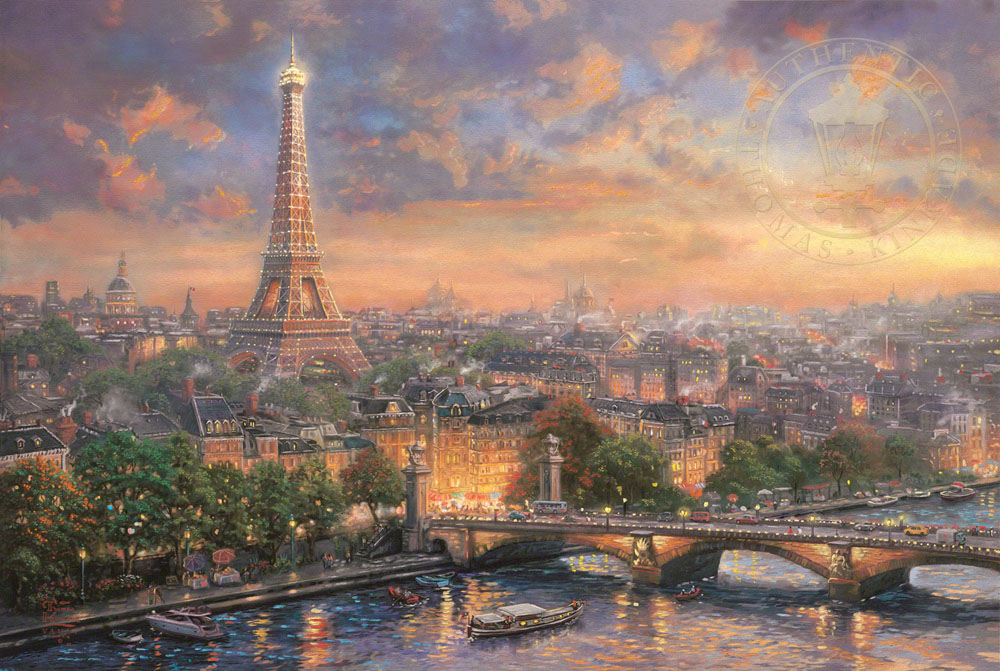 If you're looking for famous travel destination paintings, we invite you to experience a trip around the world with our impressive collection of Limited Edition fine art depicting some of the world's most popular cities in the mesmerizing style only Thomas Kinkade could produce. Visit one of our galleries to experience these works of art in person.
Take A Trip Around The World
These paintings explore some of the most beautiful, romantic, and sought out places in the world — each with their own special features masterfully captured by Kinkade. Some of our favorites include:
Paris, A Thomas Kinkade Favorite
Thomas Kinkade painted several Limited Editions featuring Paris, the most romantic city in the world. He loved the city of Paris along with the many artists and amazing works of art that have been created there. You can envision yourself walking down the streets in Paris, City of Love, or even gaze at one of man's most iconic structures in Paris, Eiffel Tower. You'll feel like a local Parisian as you study the details of Boulevard Lights, Paris. If you love Paris, our gallery holds a great selection of paintings depicting life in this lovely city.
American Cities
If you've recently visited a new city, commemorate your trip with a Limited Edition painting that can be handed down for generations. Maybe you've visited Boston or New York and would like a reminder of your experience. Check out Dedicated To Liberty or Boston Celebration. If you're in love with the west coast, you might find solace in San Francisco, The Presidio or Pike Place Market, Seattle. Wherever your heart lies, you'll be able to find a timeless cityscape in our new, expanded gallery.
Explore The Art Of Thomas Kinkade
These famous travel destination paintings are available in our galleries.  These beautiful, Limited Edition paintings are a treasure for any collector. Thomas Kinkade has masterfully captured the romance and individuality of many of the most famous cities in the world. Visit us today to find your favorite new cityscape painting.