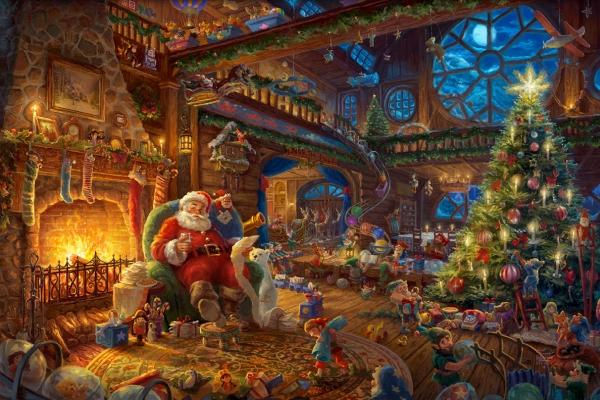 At the Thomas Kinkade fine art galleries in Carmel, Monterey, and Placerville, California, we carry wall art depicting Santa in a wide range of settings – greeting kids and carolers around town, home at the North Pole, and out on delivery.
You're sure to find holiday artwork to compliment your home when you shop our collection featuring jolly old Saint Nick.
Paintings Of Santa On The Town
Whether it's the Santa ringing bells outside your favorite shopping center or the mall Kringle you visit for annual commemorative photos, there's something magical about seeing St. Nick out and about. Relive those feelings and share them with anyone who comes to visit this holiday with A Christmas Wish, A Victorian Christmas Carol, and Radio City Music Hall.
These winter wonderland paintings show Mr. Claus waving at excited children from a store window, popping by for a sleigh ride through a Victorian village, and ringing a bell to encourage busy passers-by to stop and give a little joy.
North Pole Wall Art
What's more mysterious than what Father Christmas gets up to when he's home at the North Pole? Our North Pole wall art features elves, Rudolph's red nose, Christmas trees, Mrs. Claus, and that iconic sleigh, overflowing with gifts.
In Santa's Workshop, you even get to see Saint Nick relaxing by a cozy, crackling fire as he checks his list twice for the naughty and nice. This might just be the statement piece you've been seeking.
Paintings Of Saint Nick Making Deliveries
Santa on the night before Christmas is probably the most beloved of all. See Saint Nicholas as he prepares to shimmy down the chimney in Midnight Delivery. Santa's Special Delivery gets a little nostalgic with Father Christmas delivering a brand-new Lionel electric train set under a soon-to-be smiling child's tree.
Shop Santa Claus Paintings In California
Compliment your Christmas paintings or start a new collection with Santa Claus canvas artwork. We invite you to explore our holiday home decor at the California Thomas Kinkade galleries in Carmel, Placerville, and Monterey. Stop by and see us today or contact us for more information on the canvas wall art you're interested in.