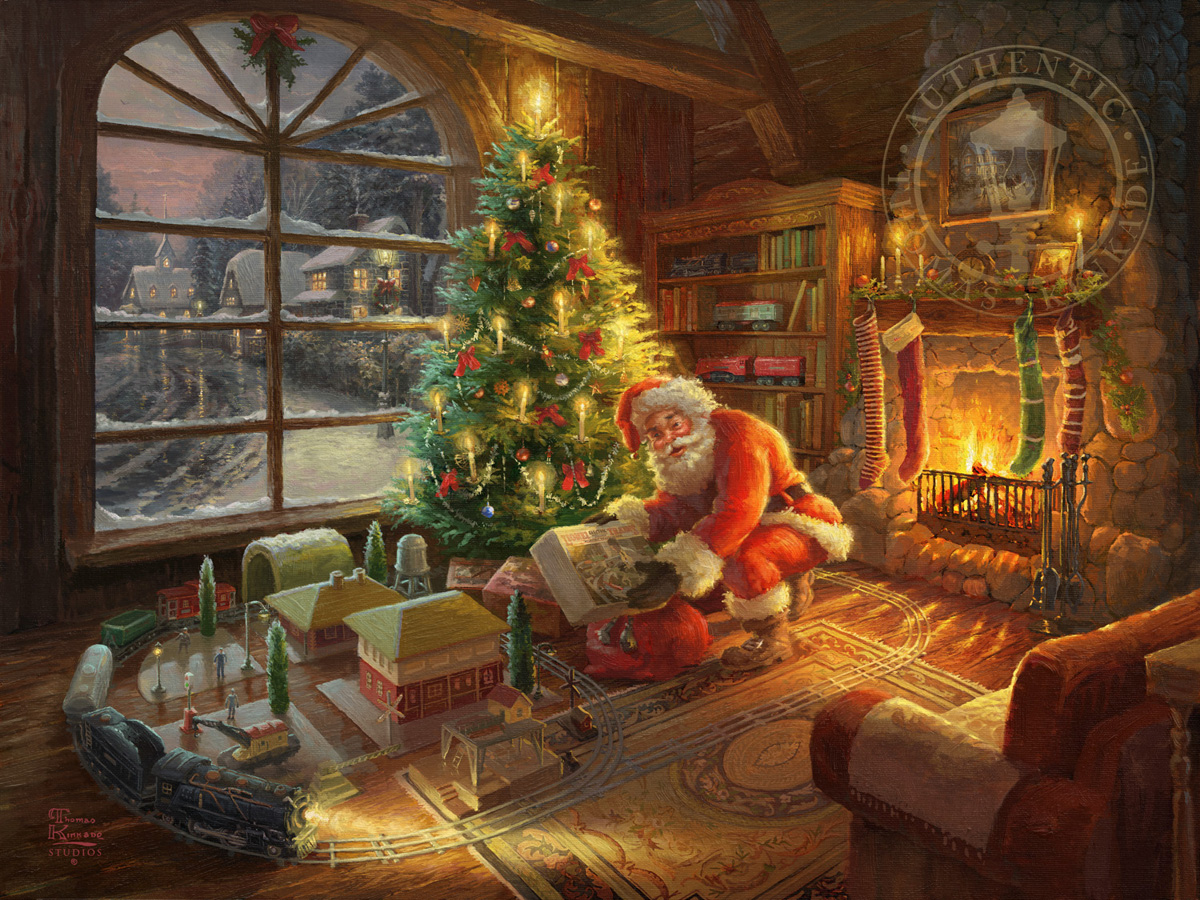 Art Notes
Nothing matches a child's excitement like finding a Lionel Train under the tree on Christmas morning. In Santa's Special Delivery, Thomas Kinkade Studios captures the magic of Christmas Eve and Electric Trains. In this nostalgic painting, set in Lionel's Prewar Tin Plate Era, we find Santa Claus leaving a family with a special package. Santa's rosy cheeks glow as he pulls a brand new Lionel Electric Train Set out of his bag – a prized gift that every collector young and old wishes for. Behind him the fireplace burns warm and bright, and outside the town rests peacefully, as children (and adults) dream of what may be under their tree at dawn.
IMAGE FACTS
Santa's Special Delivery is the second painting created in partnership with the toy train company, Lionel, LLC.
Like the previous image – All Aboard for Christmas – Santa's Special Delivery captures a classic American holiday scene that pays tribute to a passion for trains.
Each train featured in this Limited Edition artwork is from the Lionel Prewar Tin Plate Era, which lasted from 1900 to 1942.
The red train on the bookcase is the Commodore Vanderbilt, one of the most famous Lionel Trains in history, and a toy railroad hobbyists' favorite to this day. Fitted with a sheet metal shroud, it became the first streamline locomotive in America. Almost immediately, its futuristic design made it a popular prototype for toy train and model makers.
The black engine is the 262 Lionel Prewar Locomotive and Tender.
The engine in the set displayed around the Christmas tree is emblazoned with the road number 1900, while the tender proudly bears the "Lionel Lines" badge, and "Lionelville" is etched on the passenger cars.
In his gloved hands, Santa holds a beautiful boxed trained set. Lionel's famed packaging showcases its history and the dramatic family style that hobby train enthusiasts love.
This painting is the first Thomas Kinkade Studios image featuring Santa Claus inside a home.
In contrast to this unique interior perspective, framed by a picture window is a Thomas Kinkade-inspired town covered in snow.
The home is decorated in an authentic Pre-World War II style, complete with fresh popcorn and burning candles adorning the tree, and handmade stockings lining the fireplace.
Above the mantle sits Thomas Kinkade's Home for the Holidays – one of the artist's popular Christmas paintings.
Copyright: Santa's Special Delivery © 2016 The Thomas Kinkade Estate. All rights reserved. © 2016 Lionel, LLC.
Title Santa's Special Delivery
Painted 2016
Published 2016
Style American Affinity
Classification Thomas Kinkade Studios