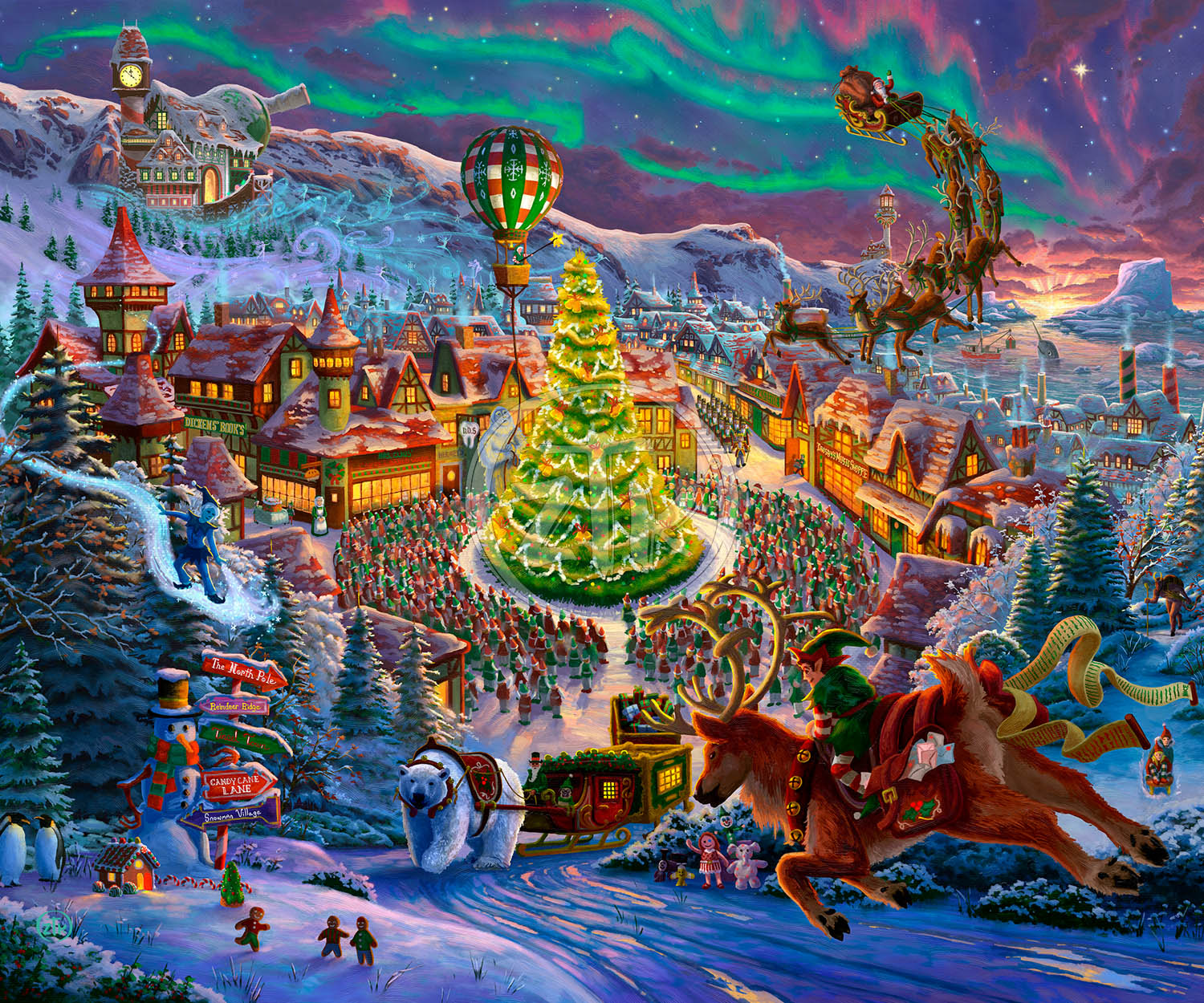 Art Notes
Has there ever been a more magical place to delight the child within us all than Santa's North Pole? In my latest creation in the Worlds of Wonder series I take the viewer on a trip to this enchanting realm. For the collector who looks closely, there is an abundance of fun to be discovered. Beyond Santa and Mrs. Claus, a variety of Christmas-time characters have been whimsically rendered for all to enjoy. Jack Frost, Gingerbread men, and Krampus all wander the "Tinseltown" village as the elves go about their mirthful business. Look carefully at the many buildings there to recognize some of the most prominent stores and establishments of this fabled frozen land. In the middle of it all stands a glorious tree adorned with ornaments and lights, glowing as tribute to the fun and fantasy of the season. As Santa's Christmas is a time of gift-giving and good cheer, so I wish this composition to be my gift to you and a source of your joy and jubilation the entire year-round. Merry Christmas to all and thank you for sharing my adventure in art.
Key Points:
In the distance, a curious narwhal visits the sailors aboard the S.S. Mistletoe.
In the wooded forest, Krampus, a popular create of Central European Folklore approaches the village to bring gifts to well-behaved children.
The townsfolk gather around the North Pole's Christmas tree as a special elf, aided by a Yeti, places the final touches on the tree.
As the clock is about to strike midnight, the aurora lights up the sky in vivid hues of pink and teal.
Copyright: © Zachary Thomas Kinkade © 2019 Art Brand Studios, LLC. All rights reserved.
Title Santa's North Pole
Published October 2019
Collection Worlds of Wonder