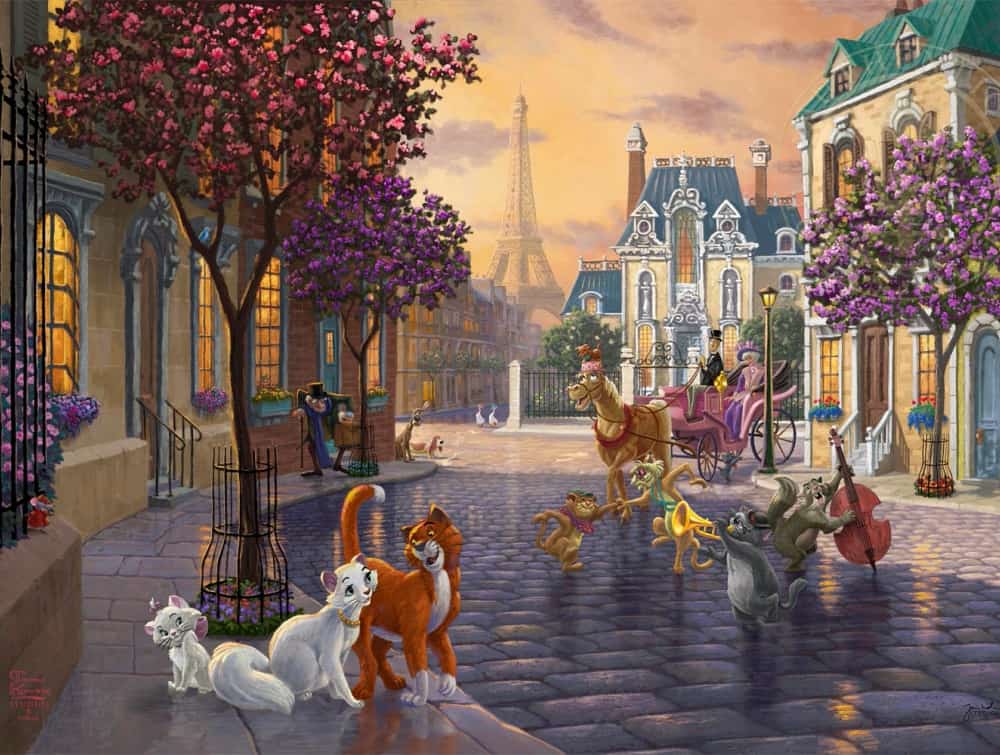 Choose a gift your cat lover doesn't already have with painting from our Thomas Kinkade galleries in Carmel, Monterey, and Placerville, California. Visit one of our local Monterey area art galleries, and see the grace and beauty of cats captured in our paintings.
Cats & Cafes
Escape to the cafes of Europe and discover delightful felines prowling along the quaint cobblestone streets. In Munich Cafe, you'll find three cats wandering the historic streets while the empty chairs and tables of the cafe wait for diners to arrive.
Three cats also find themselves in the painting, French Riviera Cafe. In this painting, patrons can watch the sailboats while cats wait expectantly for a dropped morsel or two.
Magical & Whimsical Cat Art
Invite the magic of Disney and your love of cats into your room decor with one of our Disney cat paintings. The Aristocats honors the beloved 1970 film with a scene of fun-loving felines enjoying the streets of Paris. Who can forget the evil twin Siamese cats? See if you can spot them in Disney Lady and the Tramp Falling in Love.
If you want to celebrate your love of cats with a fiercer twist and plenty of bold color, you might also enjoy Blend Cota's painting, Catwoman. When you visit one of our Monterey Bay area galleries, you can see the charming details and beautiful artistry in our cat art for yourself.
Gifts For Cat Lovers
Give the cat-loving person in your life a unique gift that will last for generations. Fine art from our galleries is not only beautiful but is made with vibrant colors and high-quality materials. What a lasting way to give a memorable gift for birthdays, anniversaries, graduations, and more.
Cat Paintings In California
Whether you want to celebrate your feline friends with a charming painting for your living room, add some whimsy to your office, or find the perfect gift for your loved one, our helpful art consultants will gladly assist you. Visit us today at our Carmel, Monterey, or Placerville Thomas Kinkade galleries to explore our delightful cat paintings.